If you appreciate bright colors and the vibrance of nature, then sunflower nail designs are the perfect match for you. Sunflowers are appealing, and most people find them very soothing, and the best part about sunflower nail art is that you don't need to wait until summer for this attention-grabbing design.
Unlike the delicate nature of your regular manicure, with sunflower nail designs, you can count on rich, contrasting colors. This means with the right combination; the beloved sunflower nail designs are a great way to express your true personality and just have fun with this trend.
Contrary to what many may think, sunflower nail designs are versatile and perfectly suitable for all occasions. Depending on your event, you can choose between a hand-paint design or a simple sunflower press-on sticker design.
Sunflower nail designs may seem complicated at a first glance; however, with the right tools and following the right steps, you can totally pull them off in the comfort of your home. So, if you are ready to take your nail game to the next level, stick around as we tell you just how to do sunflower nail designs and more.
Sunflower Nail Designs Inspo/Ideas
Sunflower with polka dots: Opt for a neon yellow and paint a small black bullet at the base of the nail. On the middle finger, opt for polka dots and go for full black with a flower on the ring nail.
French with sunflower: French nails with sunflower designs have such a fresh and summery vibe. Create rounded lines for your square nails, and paint this amazing yellow flower on the tips of the ring finger.
Sunflower coffin nails: Go for ombre yellow colors, translucent and white nails. Then, after choosing the base, you need to think about the decorations. Combine diamonds and rhinestones with Fimo petals and glitters to get that stunning mani.
Simple sunflower nail design: Design your nails with simple sunflower art to make them look simply beautiful.
How to do Sunflower Nail Designs Step By Step
Step 1 Prep your nails
First, prep your nails with a base coat. Once your nails are ready to paint, apply two thin coats of a base color polish, a neutral is best here and allow them to completely dry.
No products found.
We recommend Essie Strong Start Nail Strengthening Base Coat. This clear nail polish base coat strengthens, reinforces, and hardens nails.
This base coat creates the ideal base for a beautiful manicure thanks to stronger nails more resistant to peeling, chipping, and breakage.
This strengthening base coat is infused with biotin, vegan formula without animal-derived ingredients. High-performance Essie top coats, base coats, and treatments for every detail of your manicure; the perfect compliment to any Essie nail polish color.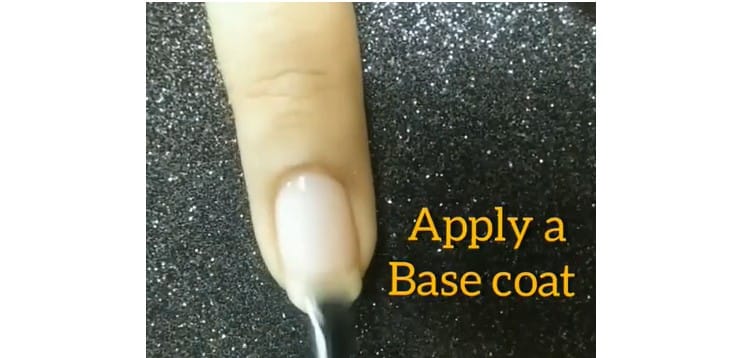 Step 2 Paint a black French manicure
Create a polka dot pattern on your nail using white acrylic paint or white polish with a small dotting tool.
No products found.
Try Karma Organic Nail Polish, which offers the cleanest beautiful color to your nail you can find ever. The unique French manicure nail polish formula contains calcium and coffee extract to help nails strengthen without using Formaldehyde.
Karma Organic Vegan nail polish is chip-resistant, durable, and non-yellowing. Karma Organic Natural Nail Polish is made up of fine particles, and quickly driers nail in the dries process. Best choice for kids, teens, and adults.
Karma Organic natural nail paint is 100% safe for those with allergies and sensitive skin, safe for children, and safe for pregnant women.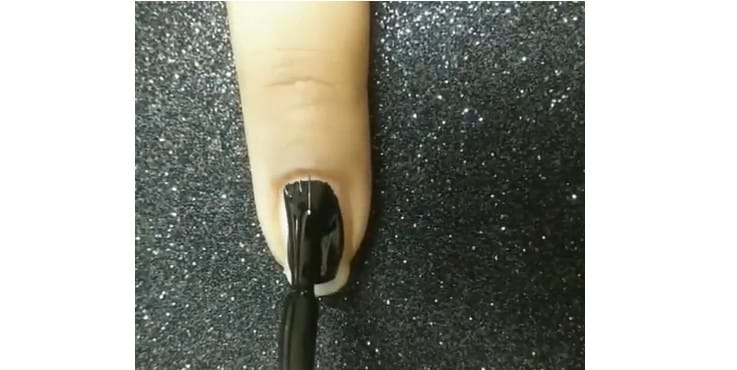 Step 3 Draw your flowers
Draw the center of the flowers on the three nails using a thin striping brush to paint and shimmery brown nail polish.
Use a small nail art brush and a light orange acrylic or nail polish and create the petals. Paint the petals a little bit smaller on the sections where there is no more space. Now using the green polish, draw leaves.
No products found.
You can try Revlon Nail Enamel, Chip Resistant Nail Polish in brown. The chip defiant and anti-fade technology help color stay vibrant longer for fade-resistant wear.
It is formulated without formaldehyde, dibutyl phthalate, toluene, formaldehyde resin, and camphor. ShadeLock Technology will help your color stay vibrant longer for fade-resistant wear.
You can choose from 64 sheer, opaque, shimmer, metallic, and chrome shades.
No products found.
Alternatively, to nail polish, you could use stick-on nail art. We recommend Nature Nail Art Bees & Sunflowers Nail Stickers. Each nail sticker varies in size and comes with beautiful bee nail stickers, flower nail stickers, sunflower nail stickers & more.
These are suitable for both children & adults. After applying your nail polish or base coat, easily peel off the nail sticker (tweezer recommended), then stick it onto your nail. Apply top coat to sure your nail sticker stays on longer.
You'll get three sheets of nail stickers; each sheet is packed with tons of bee nail stickers, flower nail stickers, sunflower nail stickers & more.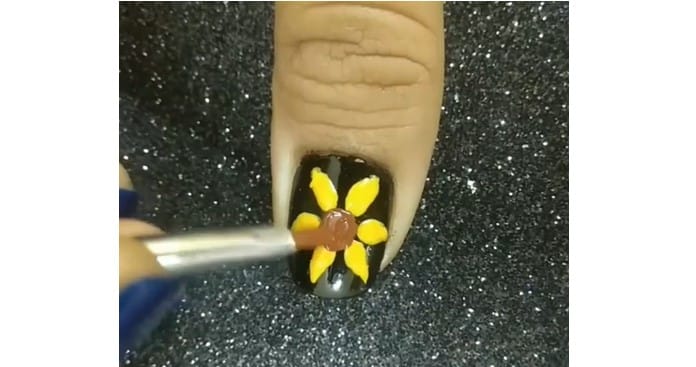 Step 4 Clean up
Clean up the brown center of the sunflower. Using a small nail art brush, just even out the edge and cover any of the orange or yellow that overlapped the brown.
No products found.
You can't go wrong with Winstonia 5 pcs Nail Art Brushes Set. Featuring durable nylon hair, anti-shedding ferrules, and ergonomic wooden handles for the best user- and result-oriented experience.
This nail art brushes set offers the quality you won't get with a standard brush. Draw fine details, fill in colors, and create intricate designs with tapered brushes; use the striping brush to create long lines without effort.
Achieve tiny details and fine lines all that nail art designs needs. With its various sizes, this nail art brushes set is perfect for any nail art enthusiast.
Step 5 Finishing touches
To lock in your swirls, apply two layers of top coat for a shiny, gel-like finish. Keep handy a tiny bristle brush on hand to dip into acetone to clean up any mess-ups around the cuticle area.
No products found.
We recommend Seche Vive Gel Effect Top Coat, widely praised for its long-lasting abilities; this nail finish is your armor! It's a seal that makes your lacquer last longer, protects your color from fading, and is built to be tougher than your daily life.
Designed to be bumped into repeatedly, without chipping, and won't dull over time. Just be sure you're applying a thin coat, and your nail sheen is protected for over two weeks!
Keep your manicure great looking for days by using this fast-drying top coat gel nail polish from Seche! It has a quick-dry formula that dries as fast as you need it to so you can get back to living your life in just a minute.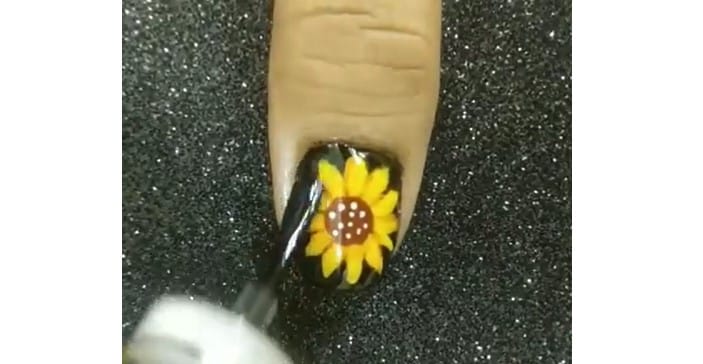 Sunflower Nail Designs Additional Tips
When doing sunflower nail designs at home, you want to clean your hands of any dirt, dust, or residue so that you start off with a clean canvas.
Make sure to have an inspirational image ready to reference while you're working.
When choosing nail polish colors, experts recommend choosing three or more shades, including complementary or monochromatic shades and neutral, so you can have more variety.
You'll want to use a thin striping brush to paint your chosen design. If you make a mistake using your light shade, you can go over it and cover it up with a darker color.
Common Question About Sunflower Nail Designs
Who is sunflower nail designs for?
The sunflower nail designs trend is right for everyone, from nail-art aficionados with the patience and level hand to paint sunflower designs exactly to your liking to anyone who's looking for a quick and easy stick-and-go alternative.
What's the alternative aside from painting sunflower nail designs?
Since beautiful and complex designs don't mix with shaky hands, stick-on nail art is another option aside from painting.
Look for quality brands that take away the frustration of hand-drawing trendy designs. Remember that press-ones make for an easy, hassle-free manicure option.
What are the different nail art designs?
There are endless kinds of nail art designs, and you're only limited by your imagination.
Try things like branded, tie-dye, hearts, lines, abstract, eyes, minimalist, cute, pastel, bold, floral, contrasting, or metallic designs, and sunflower nail designs in 2022.
How do you design nail art?
There are a few tools you need to create perfect nail art. The basics include nail tape, different sizes and shaped detail brushes, dotting pens, nail glue, jewels, and stickers. Of course, you'll also need your chosen nail polish shades as well.
Then, start by applying a base coat and a couple of layers of your base color, letting each dry completely. Next, it's time to get creative. Use your tools to create any kind of design you like.
What is the popular nail color for 2022?
The popular nail colors for 2022 are deep reds, shades of brown, blueish-grey, muted greens, nude, navy, and metallic finishes.
What are the 5 basic nail designs?
The five basic nail shapes are square, oval, round, almond, and stiletto.
What are ombre nails?
Ombre nails are just a type of layered manicure that speaks to a seamless, blended color gradient or transition (light to dark or vice versa) more than a specific type of product.
Sunflower Nail Designs Video Tutorial
Products Mentioned In This Article