You need to know about nail stamping when you are into nail design and have been trying to pull off the perfect manicure at home. Nail trends are all about having fun and showing your personality, and nothing can express it better than nail stamping and the best stamping nail polish.
These days are all about the nails, and it seems like the crazier and bolder, the better. If you've been eyeing beautiful patterns and designs on IG, know that you, too, can get the perfect butterfly nails with nail stamping and the best nail stamping polish. If you haven't tried nail stamping before, you are really missing out.
There's just something so satisfying about seeing freshly stamped nails all pretty while on a date or just hanging out with friends. Nail stamping is just great for those of us who lack any artistic ability or steady hand; all you really need is a few tools and, the most important item, a stamping nail polish.
Finding the right polish for stamping might sound like a bit of a task; you probably wonder, can't you just use regular polish? And the answer is not if you want to get the best possible results. That said, you really want to make sure you look for one that is specially designed for stamping. To make your search a bit easier, we've put together some of the best stamping nail polish options below.
Stamping Nail Polish Vs. Regular Nail Polish
Nail polish for stamping should be highly-pigmented, thick inconsistency, and should ideally provide an opaque finish, irrespective of the texture of the polish. These qualities make it easy to transfer art from plate to nail seamlessly.
Stamping polish is an opaque, thicker, one-coat nail polish. It is used to stamp a design over a dried base coat of regular nail polish.
You can layer different colors of stamping polish and colors in designs using stamping polish to create more intricate, complicated looks.
Regular polishes are much more watery and thin in comparison to stamping polish. So this means that the polish won't cling to the ridges and grooves of the stamping plates instead, it would just run off, making it harder for the nail stamp to pick it up and get a clear imprint.
How To Use Stamping Nail Polish
Step 1 Apply top coat
Start with one thin layer of nail base coat to get maximum adhesion. This one also prevents nails from getting stained or yellow. You can opt for a clear or light pink base coat.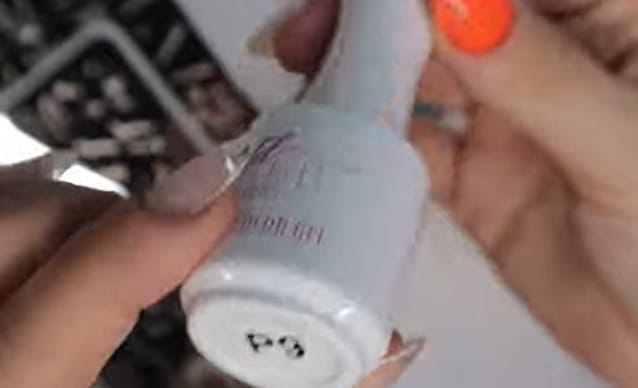 Step 2 Select a design
Select an engraving that is a stand-alone shape. Paint silver polish across the etching. Use the scraper to remove the excess lacquer.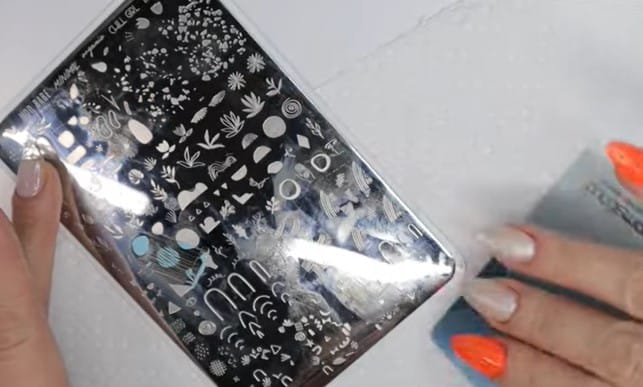 Step 3 Stamp your design
Pick up the polish with the stamper by pushing it down firmly onto the plate. Before you stamp, hover the stamper above your nail and eyeball where you want it to appear on the nail.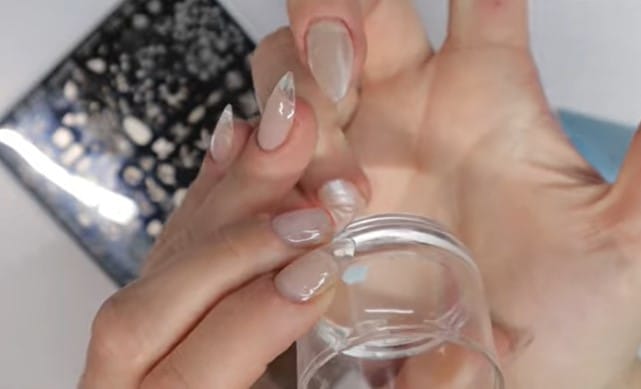 Step 4 Continue with the rest of the nails
Stamp similar designs on your other nails, but switch up each placement for more visual interest.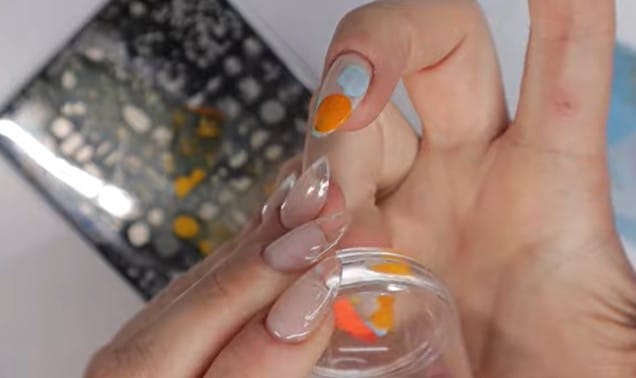 Step 5 Finish with top coat
Use a top coat to adhere rhinestones as desired. Finish with another layer of top coat over the entire design.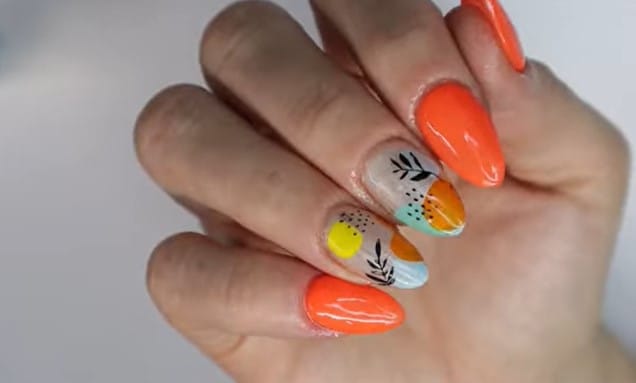 ---
Best Stamping Nail Polish
No products found.
What We Like
Paraben-Free
Non-Toxic
Multicolor
The polish is made using environmentally friendly materials and does not contain formaldehyde, toluolavi-metal, and other harmful substances containing avocado essence to better protection for your nails.
It can be used separately, has high gloss and completeness, and can be used as an ink, and has an excellent transfer effect. Simple to use: Shake or stir very well before use.
The stamping nail polish set features 12 colors that can be freely matched to create your own nail art style.
How to use Nail Polish For Nail Stamping Set:
Tear off the blue protection film.
Fully shake the bottle to make the texture uniform. Apply a proper amount of stamping polish on the pattern to be printed.
Use a scraper to remove excess stamping polish at a 45º angle.
Pick up the pattern with a stamper.
Print the pattern on the nails.
Apply a top coat for longer lasting.
---
No products found.
Made from natural resin, this stamping nail polish is low on smell, is non-toxic, and lets you stop worrying about hurting your health.
Each color will meet with different patterns; it also can improve your DIY skill. It comes packed in an exquisite gift box, a perfect gift for her. The polish needs to be cured under an LED/UV nail lamp. The average for LED light is 60-90 secs, UV light 2-3mins.
Using the stamping polish gel with KADS nail stamping plate set will do better work for your nail.
Tips
It's better to apply peel-off nail polish for full-coverage stamping patterns. And clean your sidewalls and cuticle before curing the design.
---
No products found.
What We Like
Ammonia Free
No odor
Enhanced with Aloe Vera
Polish Perfecter Liquid Latex Manicure Mask Tape protects your skin from stamping, gradient, and marbling messes, making cleanup a breeze. Or use it as a stretchy, flexible peel-off base coat for those chunky glitter bombs.
It's also fantastic for those who need to remove polish quickly without using acetone between photo shots.
Polish Perfecter Liquid Latex Manicure Mask Tape has NO ammonia odor, dries quickly, and peels up in ONE PIECE.
How to use Polish Perfecter Liquid Latex:
Apply to areas where you want free of polish.
Allow drying for 1-2 minutes until it dries.
Now be creative and do your nail arts (stamping, gradient, marbling or etc.).
Rub the edge of dried Latex Tape with your finger or tweezers and peel it off.
---
No products found.
What We Like
Sorted colors
Environmentally friendly
Double-head Design
Made using environmentally friendly materials, it does not contain formaldehyde, toluolavi-metal, and other harmful substances containing avocado essence to better protection for your nails.
The polish features a double-head design that can be used with stamping plates; it has an excellent transfer effect. Can also draw wave points.
You can have fun with this special nail polish for nail stamping, with over 40 colors that can be freely matched to create your own style of nail art.
What Our Testers Say
Lots of vivid colors for the price, and the pen tip is fantastic for reverse stamping. Glad I purchased them, I will use them for reverse stamping, but it'd be nice if they picked up images as well.
---
No products found.
What We Like
Unique Nail Art Image Plates
High-quality stainless steel
High polish finish
The newest image plate from the nail art experts at PUEEN. The Nail Art Stamping Image Plate Collection – LOVE BOX was designed and created from the ground up to introduce exciting new designs to nail art stamping.
They are unique, and no other nail art image plates look like them. Each plate measures 125x65mm with plastic backing for easy, comfortable handling and a protective nylon screen.
All plates are made from high-grade stainless steel and plastic-backed to prevent scratching during storage.
How to use PUEEN Nail Art Stamping LOVE BOX:
Before use, peel off the tight, protective, blue plastic film on top of each plate.
Must use a stamper and scraper to properly stamp images from the nail plates.
Common Questions About Stamping Nail Polish
Can any nail polish be used for stamping?
There are many types of polish out there, all with different consistencies. Besides regular nail polish, you can use almost any nail polish for stamping if the consistency is right.
Do you need special nail polish for stamping?
Even though you can use regular nail polish for stamping, it is not advisable to do so. Nail polishes for stamping are designed to last longer, are creamier, highly pigmented, and pick-up designs easily for a clean and effortless transfer.
What polish is best for nail stamping?
The best stamping nail polish is gel nail polish. This is the type of nail polish that is most commonly used for stamping.
It has a thicker consistency than regular nail polish, which makes it easier to transfer the design from the plate to the nail. You will need a special base coat and top coat to use with gel polish.
Can I use regular gel polish for stamping?
Because gel polish doesn't dry on its own, it tends to smear instead of scraping cleanly. If you are accustomed to stamping with stamping polish or traditional lacquer, you know that a smear like this often won't transfer to the stamper.
Can I use acrylic paint for nail stamping?
Yes, you can use acrylic paint for stamp nail art. Stamping is just another approach for getting a design onto a nail.
How do you thicken nail polish for stamping?
If you are out of stamping nail polish, you could potentially make it thicker by mixing it with Xanthan Gum Powder; this will thicken your nail polish immediately.
This amazing gum powder is also used in various cosmetic products too and techniques like stamping.
Is foil polish the same as stamping nail polish?
Foil polish works in the same way as stamping polish, but it has a slower dry time than stamping nail polish. This allows you to take more time to apply nail foil over the tacky foil nail polish without worrying about rushing to apply it.
Stamping Nail Polish Video Tutorial
Products Mentioned In This Article