If you are into gel nail polish and who isn't but are tired of the awful smell of nail polish remover, then do yourself a favor and learn how to remove nail polish with sugar. Employing natural ingredients is a fantastic way to avoid regular acetone during your gel nail polish removal process.
When you get tired of your manicure not lasting as long as you wish, you start looking for alternatives such as gel nail polish, which offers salon-quality nails that last in the comfort of your home. However, that's only one part of your perfect nail routine, you also need to learn how to get rid of it, and today we'll tell you all about removing gel nail polish with sugar.
Like all types of polishes, adhesive nails, nail art, or nail enhancements, it's absolutely key that you know how to get rid of them the right way; by this, we mean in such a way that is the least damaging to your nails. By learning the exact steps, methods, and tools you need for gel polish removal, you'll be doing your nails and yourself a huge favor.
Learning how to remove gel nail polish with sugar isn't complicated at all, so if you are considering gel nails for your next manicure, you'll want to know exactly how to remove gel nail polish. Stick around and as we share with you the exact steps, tips, and tricks to remove gel nail polish with sugar.
Gel Nails Vs. Regular Polish
When you apply a nail polish marketed as gel-based, you are getting the famous gel manicure. This whole method is similar to the conventional one.
The only difference is that after applying each coat, the nails are put under an ultraviolet or LED light to "cure" the polish.
Gel-based nail is more durable in comparison to the regular one. It can stay chip-free for up to 2-3 weeks, whereas the traditional polish can last long for 4-7 days.
Gel Nail Polish Removal
Usually, gel polish is removed at a nail salon with a nail drill or with a nail file.
Keep in mind that you should absolutely, under no circumstances when removing gel nail polish, rip or tug your gel nails when trying to remove them. These actions can be quite painful and may cause your cuticles to peel or your nails to stop growing.
How To Remove Gel Nail Polish With Sugar Steps
Step 1 Grind sugar
Add two tablespoons of your granulated sugar into your favorite grinder. Work the sugar for a couple of seconds and grind it.
Once you are satisfied with its consistency, transfer it to your bowl and pour it.
No products found.
Sugar In The Raw Organic Granulated White Premium Cane Sugar is Eco-Social certified, USDA Organic Certified, Non-GMO Project Verified, kosher certified, naturally gluten-free, organic, and vegan.
Sugar In The Raw Organic White blends, browns, and dissolves easily in cooking and baking recipes. Sugar In The Raw Organic White is the perfect choice for both you and the environment.
Sugar In The Raw should be stored in cool and dry conditions. Exposure to high humidity and/or temperatures may result in caking, but the product is still safe to consume.
No products found.
Hamilton Beach Fresh Grind will get the job done. The grinding bowl on this coffee bean grinder is designed with durable stainless steel. It's removable for easy filling and pouring and is dishwasher safe.
With durable stainless steel blades, this grinder makes it easy work to grind everything from coffee beans to herbs and spices.
Hideaway cord storage at the bottom of the grinder stores the cord neatly and out of sight when it's not in use.
Step 2 Remove the top coat
Use a nail filer to remove the top coat of gel nail polish.
No products found.
For this step, we recommend butter LONDON Banana Nail File. The butter LONDON Nail File is made from a soft 180 grit that ensures nails are snag-free and never damaged.
The unique shape is ergonomically designed to fit the curve of your natural nail. The perfect tool to shape your nails; it makes shaping easy, peasy and perfect every time.
Use butter LONDON's Nail File before painting. Buff away any imperfections and prolong the life of your manicure.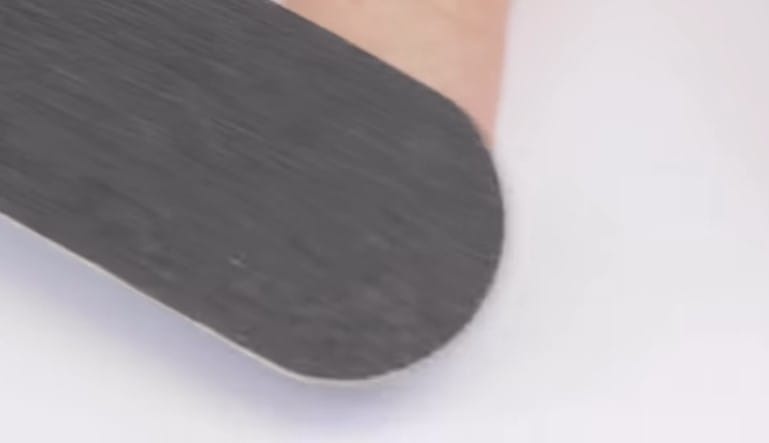 Step 3 Remove gel polish
Take your cotton balls and put them into granulated sugar. Once the cotton balls are soaked, start and rub your nails gently. The pressure and the texture of sugar will remove your gel polish.
No products found.
We love using Simply Soft Premium Cotton Balls. Simply Soft Cotton Balls are made with 100% pure, natural cotton. You can expect clean & pure cotton white with a smooth texture.
These are extra soft and absorbent for all kinds of skincare, first aid, and baby care
Ideal for applying cosmetics and medications like creams, lotions, oils, or astringents.
Also great for removing makeup or nail polish, it is gentle on the skin yet strong and durable. It offers greater absorbency for makeup removal, cleansing, and applying toners and astringents.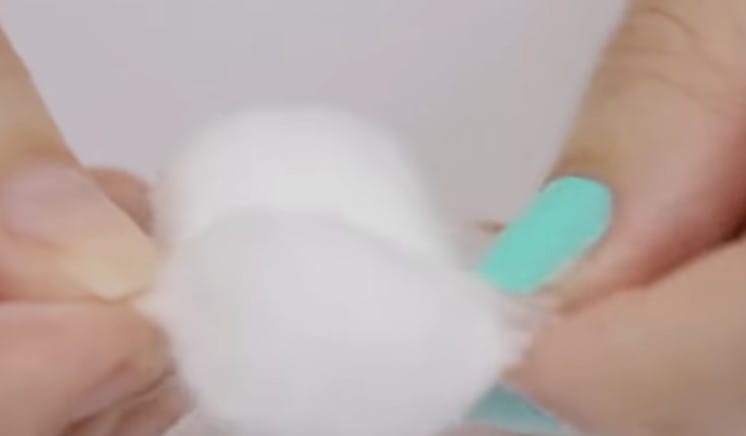 Step 4 Be careful with your skin
Make breaks between the process, and let your nails and cuticles rest. Do not harm your skin. Keep redoing the process until no gel is left on top of your nails.
Step 5 Moisturize
Add a couple of drops of your favorite cuticle oil after you are done with the removal process. This will help your fingernails and your skin calms down and smoothes out.
No products found.
We recommend Sally Hansen Vitamin E Nail and Cuticle Oil. It softens and conditions cuticles while helping nourish dry nails and cuticles.
Natural essential oil complex moisturizes with Vitamin E, Apricot Kernel, and Aloe. An intensely moisturizing Vitamin E oil that softens cuticles and cares for dry, brittle nails.
Natural Essential Oil Complex with Vitamin E, Wheat Germ, Apricot Kernel, Aloe & Panthenol moisturizes & conditions cuticles while increasing nail flexibility.
How to use Sally Hansen Vitamin E Nail and Cuticle Oil:
Brush on Vitamin E Nail & Cuticle Oil nightly.
Massage nails to help increase circulation to the nail bed and stimulate growth.
Wash off before applying the nail color. It can be used over nail color or on bare nails.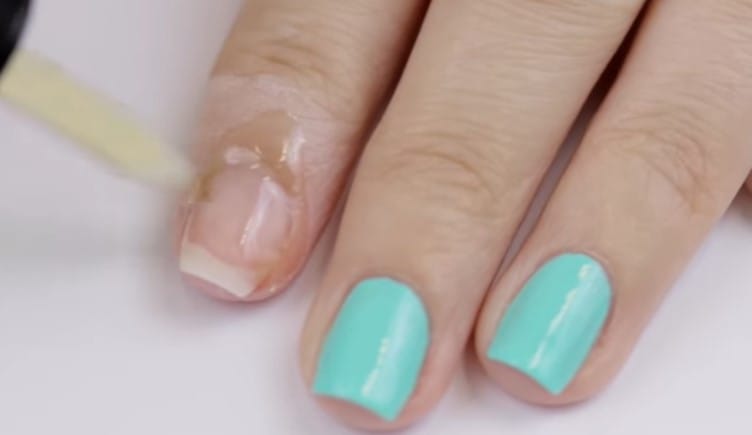 How To Remove Gel Nail Polish With Sugar Extra Tips
It is key to wash your hands and remove any dirt or bacteria that might be stuck on top. Germs can easily get underneath your nails, so wash your hands with clean soap beforehand.
Always work with clean and washed tools. Make sure to purchase new nail files or nail drills every 4-5 weeks. Once you have all the tools set & in place, only then continue with the method.
It is vital not to bite your nails, pick them, or cause any form of damage to your cuticles. The sugaring method may irritate your fingernails, leaving you with inflamed fingers and nails.
The removal process can be drying your hands and your fingernails. Make sure to restore and bring back the lost moisture with hand cream, lotion, and cuticle oil right afterward.
Make sure to let your nails breathe, and do not apply any new polish or gel polish on top. Your fingernails and nails should rest for a couple of weeks at the very least.
Common Questions About Gel Nail Polish Removal
Why is it important to know how to remove gel nails?
Proper removal will protect the nails, prevent infection, and keep the surface of the nails smooth and healthy.
Gel nail polish requires UV light to cure the polish onto your nails. It's more durable than regular nail polish. Some formulas need to be soaked off for up to 30 minutes.
You can buff the top coat off with a nail file and soak the nails in acetone to remove them.
Is it hard to learn how to remove gel nail polish with sugar?
Learning how to remove gel nail polish with sugar isn't hard at all; if you wish to take off gel nails without acetone, you have this and other alternatives, such as warm water and dish soap.
Fill a bowl with warm water, dish soap, and salt. Submerge your nails in this mixture for 15-20 minutes. Once the time is up, dry your hands, and you should notice the polish starting to come off.
This is also the best way to remove nail polish from your skin when you do not have acetone at home.
What dissolves gel polish?
According to experts, acetone offers the most effective way to remove gel nail polish at home.
How do salons remove gel polish?
Your nail professional will use a file to gently buff your nails. This isn't to scrub the polish off; it just adds a bit of texture to the shiny surface so that the nail polish remover can do its thing.
Each cotton pad will be dipped in acetone and wrapped around each nail.
Can vinegar remove gel nail polish?
White vinegar also contains acid that can break down nail polish. You can either use vinegar on its own or combine it with lemon juice as a mixture. You'll need to soak your nails in warm water for at least 15 minutes.
How do you remove hard gel nails at home?
Just gently scrape the gel off by going underneath and lifting it up. If there are still more stubborn spots, soak a new cotton pad with acetone and wrap it around the nail again with aluminum foil for another 10 minutes, and you are gel nail polish free.
Is it OK to peel off gel nail polish?
You can gently and safely take your gel manicure off at home, especially if your nails were healthy before the manicure.
How long does it take to soak off gel nails?
Typically it takes around 10 to 15 minutes. The biggest mistake that leads to gel not coming off completely is not soaking the cotton enough.
Repeat on all 10 nails. Then, let your nails soak for about 10 to 15 minutes, letting them go longer if the polish doesn't easily slide off.
Can gel nail polish damage your nails?
Gel nail polish is easy to apply at home because of the readily available gel nail kits. However, besides the benefits, it severely damages your nails by making them weaker and prone to splitting.
Are there any drawbacks when it comes to how to remove gel nail polish with sugar?
When learning how to remove gel nail polish with sugar, the sugar process is largely harmless once the correct steps are followed.
The only drawback is that if the sugar is not properly ground, it could be abrasive to the nails and make them appear rough after you have completed the process.
How To Remove Gel Nail Polish With Sugar Video Tutorial
Products Mentioned In This Article