2022 has been all about long nails, stiletto, and almond-shaped manicures, but when it comes to color, how do you pick the best shade? If you have difficulty picking a nail color for your nail art designs, always go for neutral nail designs, and you will never regret your decision.
Neutral nail colors have been getting major attention and love than ever, and there is a good reason. Neutral nail designs have always been popular, and it is easy to understand why. Even though nail art can be really out there, you can never go wrong with neutral nails.
As much as we love bold colors and designs, we all need solid colors from time to time. When you decide to choose neutral nail designs, you feel safer as these designs are perfect for any occasion, and they will never clash with your outfit. Whether you're going out on a date night or meeting friends for brunch, these nails will always look chic and elegant.
They are simple and sophisticated, yet still chic and stylish. Neutral nail designs are timeless and will never go out of style. So if you want a break from dark reds or grungy and punk designs, neutral nail designs can tone down your look and bring you back to the center. Learn how to do neutral nail designs in a few simple steps below.
Neutral Nail Designs Ideas
Neutral colors are muted shades that appear to lack color but often have underlying hues that change with different lighting. Examples of neutral colors include beige, taupe, gray, cream, brown, black, and white.
While neutral colors are not on the color wheel, they complement primary and secondary colors.
Glitter Ombré. A touch of sparkle on the tips of your nails creates an ombré, Cinderella-look that's hard not to look at.
Metallic strips. Simple metallic strips in alternating directions elevate the most simple of neutral manicures over a peach polish.
Daisies. Add some sweet floral designs to your soft pink manicured nails.
Matte nudes. The beauty of matte neutral skin tone shades is that they differ for everyone. To achieve this look, pick a color closest to your skin tone and top it off with a matte topcoat.
Neutral abstract. Peachy tones are also in the neutral nail art department. Try accenting your mani with a rich brown for a pop of color.
Accented French tips. Another popular idea among neutral nail designs is to round out your classic French mani tip and double it. On oval-shaped nails, this nail art looks especially elegant with a slight touch of glitter.
Reasons To Choose Neutral Nail Designs
Neutral nails are always in style and will never clash with your outfit. You can wear them with any color, and they will always look chic.
If you're looking for a sophisticated nail design, try one of these trendy neutral designs.
There are endless possibilities when it comes to neutral nail designs. You can keep it simple with a nude or light pink polish, or you can go for something a little more daring with a dark grey or black polish.
They are also perfect for work or school, as they will never clash with your outfit. No matter your style, there's a perfect neutral nail design for you.
The nude colors give your nails a polished look and are always a safe choice. Less is more, and we love this understated look.
How To Do Neutral Nail Designs
Step 1 Prep your nails
As always, start out by prepping and filing your nails into shape with a nail file and cuticle pusher. Feel free to go for a square tip or a slightly rounded edge. Then apply a base coat and a pinky nude base. Remember to use thin coats and let them dry in between.
No products found.
We recommend Tweezerman Dual Sided Pushy, with buffed edges to prevent nail scratching for a gentle touch when tending to cuticles.
The scoop end is contoured to comfortably follow the shape of the nail, effectively pushing back cuticles Flat, thin end for pushing back and cleaning up corners of the nail.
This tool is made of premium quality stainless steel that is long-lasting and cleans easily after each use.
How to use Tweezerman Dual-Sided Pushy:
Clean under and around the nail using the fine end of the tool
Using the curved side, gently push back the cuticle
No products found.
You can try the Deborah Lippmann Smooth Operator Nail Buffer File for your file. The fabric gently smoothes the surface of nails and imparts a high shine that keeps nails looking healthy.
This all-in-one nail buffer block shapes, smooths, buffs, and shines your nails for a perfect manicure. Each section is numbered to provide you with the proper steps for a polished appearance. Great for both women and men.
Use to shape, smooth, buff, and shine the surface of the nails with the four numbered steps on the file.
Step 2 Create your minimalist design
We've chosen to do a blue star nail art for this specific neutral nail design. Using a dotting tool or a bobby pin, which also works well for this step, apply a dot of blue polish onto the nail. You can use whatever color you like.
No products found.
For your base color, you can use Essie Nail Polish in Soft Sandy Beige or Nude. This glossy nail polish provides flawless coverage and outstanding durability; it includes the exclusive easy-glide brush that fits every nail size for streak-free application.
For a perfect manicure, use apricot cuticle oil, Essie base coat, two coats of Essie polish, and seal with Essie top coat. Trend-setting, neutral pastel is the most alluring manicure on the riviera or elsewhere.
You can choose from a palette of iconic nail enamel shades and trendsetting colors, with limited edition collections, quick dry formulas, and lust-worthy long-wear hues. The seductive power of soft sandy beige nail polish is not to be underestimated.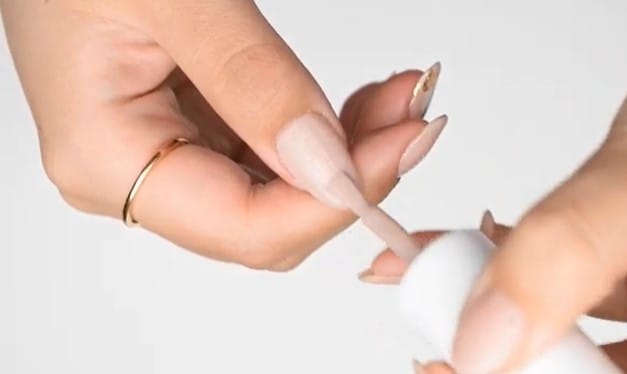 Step 3 Use your brush
Using a small detailer brush, pull the side of your dot of polish out sideways to create a thin tapered end. Repeat this on all four sides.
No products found.
Winstonia Super Fine Nail Art Brush Set is everything you need. Achieve fine nail art designs with the thinnest brushes on market. Our professional team custom-trimmed and shaped each bristle for delicate jobs and small details.
Durable nylon hair picks up and releases colors effortlessly. User-oriented wooden handles provide an ergonomic length that won't cause fatigue. It is simply the quality you won't get with a standard brush.
The pointy tips do not split, thus promising high accuracy in reaching tiny elements. The thin bristles reduce the chance of smearing and blurring like traditional brushes.
How to clean Winstonia Super Fine Nail Art Brush Set:
Pour nail brush cleaning solution, nail polish remover, or pure acetone into a small jar.
Dip bristles in the solution and gently swirl to dissolve the residue.
Replace the solution with clean water.
Remove brush from water and dab dry on a paper towel or clean cloth.
Reshape using fingers and let dry before next use.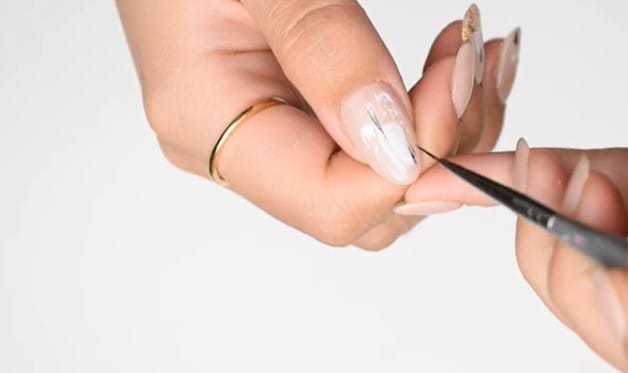 Step 4 Apply top coat
Once your polish is dry, apply a top coat to lock your design in and prevent chipping.
No products found.
For this step, we recommend Seche Vite Dry Fast Top Nail Coat. Give brilliance to your polish, and cover them with an invisible shield, protecting the polish from nicking and dulling.
It guarantees a glowing finish touch while preventing nails from staining or yellowing. Thus, it helps strengthen your nails too. Reward your nail polish with a much more durable finish that lasts longer while keeping your nails safe and healthy.
It offers a quick-dry formula that dries as fast as you need it to so you can get back to living your life in just a minute. A perfect trend for today's lifestyle as it delivers the plumping.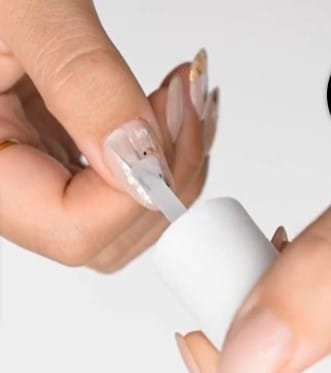 Step 5 Apply cuticle oil
Once your top coat is completely dry, apply cuticle oil to the cuticles to keep your nails healthy and strong.
No products found.
Cuccio Naturale Revitalizing Cuticle Oil comes highly recommended. It is a good remedy for damaged skin and thin nails. It is paraben free and cruelty-free.
This vitamin-infused oil conditioner deeply penetrates your skin with moisture, working to prevent peeling while healing damaged, cracked nails and hands.
A single oil application will strengthen nails and boost natural shine overnight. Perfect for thin, tired nails, our anti-breakage formula promotes the renewal of natural growth and thickness.
How to use Cuccio Naturale Revitalizing Cuticle Oil:
File nails to the desired shape. Soak nails and cuticles in warm water using Scentual Soak.
Push back cuticles and use a nail nipper to clean up any rough non-living tissue.
Exfoliate with Daily Polisher, rinse completely, and gently dry hands.
Apply one drop of Revitalizing Cuticle Oil to each cuticle area and massage into the skin.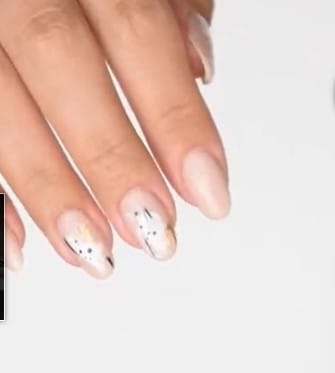 Common Question About Neutral Nail Designs
What colors are neutral nail designs?
You can easily break neutral colors down by looking at the main groups of neutral colors: white, beige, grey, black, brown, and blue.
Neutral colors are considered beige, ivory, taupe, black, gray, and shades of white that appear to be without color, but in many applications, these hues often have undertones.
How do you pick a neutral nail color?
Some common mistake to avoid when choosing the best neutral nail color for your skin tone is picking a shade that's too ashy or overly taupe.
Experts suggest opting for tones with a bit more peachy, warmer undertone, as they're easier to wear and are universally flattering.
Which nail designs look the most natural?
One of the most natural-looking shapes, the squoval mimics the shape of your cuticle: flat but with slightly rounded edges. It's easy to maintain at home too, and great if you're leaving your nails naked.
What color of nails goes with everything?
If you don't know how to wear white nail polish, don't fret, it's actually the easiest color to pair. White nails truly go with everything and make any color pop.
What color of nail polish should a 50-year-old wear?
When in doubt, neutral nail designs are the way to go. For ladies with fair skin, opt for a nude or neutral with a slight pink undertone to counteract any sallowness. For ladies with medium skin tones, warm caramel or taupe is the most flattering shade.
How to identify the perfect nail color?
Yellow or golden colors in your skin mean warm undertones.
Pink, red, or blue hues mean cool undertones.
A combination of cool and warm colors means neutral undertones.
Gray hues mean neutral undertones.
Olive skin tends to have neutral undertones, plus a green undertone.
Should toenails and fingernails match?
Simply put, no; your mani and Pedi don't have to match. Back in the day, it used to be mandatory to match the color on your fingernails to your toes, but over the years, this trend has become predictable and a little boring too.
What nail shape is most flattering?
Almond-shaped nails tend to suit everyone. If you have short palms and short fingers. it's best to opt for rounded oval and almond shapes. Consider dramatic stiletto or coffin (or ballerina) shaped styles for longer palms and fingers.
Neutral Nail Designs Video Tutorial
Products Mentioned In This Article