Is your special day around the corner, and are you looking for the perfect birthday nail design to accompany your outfit? We hear you! Birthdays are certainly a special occasion and the perfect time to show your style and personality not only with a party theme but also with stunning birthday nail ideas.
If you are anything like us and obsessed with perfect nail art, then all the more attention birthday nail ideas need. Birthday nails are a great choice for those who make their nails an essential part of their overall looks. If you can relate, you are in for a treat as we'll share stunning birthday nail ideas for your special day.
The perfect birthday nails will not only accentuate your look but will also make you feel like a true queen on your special day; you can choose an elegant and fashionable design to make you stand out from the crowd, or go for a mysterious shade, or how about an edgy look! It is safe to say that birthday nail ideas should be fun and can be as versatile as you want them to be.
As you can tell, your birthday nail ideas should reflect your unique personality, making sure you pick something that really resonates with your style while also complimenting features like your skin tone, choosing the right nail shape, etc. If you have no idea what to get for your special day, check out these amazing birthday nail ideas below.
Birthday Nail Ideas/Inspo
Glamorous birthday nail art: Go for coffin-shaped acrylic nails with sparkly glitter on them for the perfect way to add a touch of glamor to your nails. Swirls of purple, a glimmer of multi-color glitter, and a blend of sky blue and pink shades add an appealing sensation to this nail art.
Rainbow birthday nails: The classic white shade covered with a colorful polka dot ombre pattern is too charming to resist. Each piece of colorful nail art makes the world appear vibrant and colorful.
Sweet cupcake birthday nails: If you are having a cupcake-themed party, this birthday nail idea is just the right choice. Imagine a lovely polka dot pattern that looks on a light peachy basecoat for a stunning yet sweet style. The dotted artwork looks like sparkling caster sugar dusted on a cupcake.
Cocktail birthday nail art: If you are over 21, cocktail birthday nail ideas make for a time to remember. Imagine the distinctive design of lengthy coffin-shaped nails, the layering of pink gradient cocktail glasses, and transparent nails to add life to the entire ensemble.
Luxurious birthday nails: If you love some sparkle on your nails, this nail look is just right for you. Imagine an acrylic base as your foundation and Swarovski crystals and rhinestones for an ostentatious look. Consider accessorizing with large ornaments and glitter.
Frozen-themed birthday nails: Have a love for Disney films? Ask for a set with the exact Frozen hues to go with your day. These birthday nail ideas don't require much effort; just make sure to have lots of glitters to do all the talking.
Birthday Nail Ideas Steps
Step 1 Coat your nail with a white polish
Paint nails with a base coat and then top it up with white.
No products found.
Use Essie Strong Start Nail Strengthening Base Coat. This clear nail polish base coat strengthens, reinforces, and hardens nails.
This base coat creates the ideal base for a beautiful manicure thanks to stronger nails more resistant to peeling, chipping, and breakage.
This strengthening base coat is infused with biotin, vegan formula without animal-derived ingredients.
No products found.
Then for your white, try using Essie Nail Polish, Glossy Shine Finish, Blanc. This glossy nail polish provides flawless coverage and outstanding durability; it includes the exclusive easy-glide brush that fits every nail size for streak-free application.
For a perfect manicure, use apricot cuticle oil, Essie base coat, two coats of Essie polish, and seal with Essie top coat.
Choose from our palette of iconic nail enamel shades and trendsetting colors with limited edition collections, quick dry formulas, lust-worthy long-wear hues, and nail colors that care.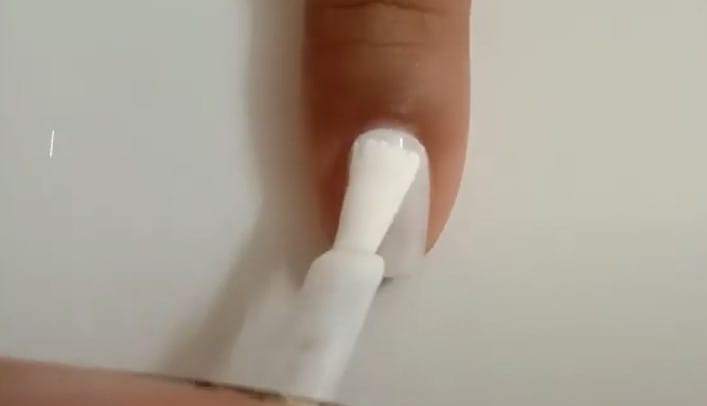 Step 2 Draw your designs
Make balloon strings using black nail polish. Draw circles on top of the strings using colors of your choice. Add a small white line on the upper part of the circle to give your balloon a cartoon-like look.
No products found.
We like China Glaze Nail Polish, and Liquid Leather. China Glaze is a one-of-a-kind formula that contains a special balance of polymers.
This nail polish offers to maintain color, shine, luster, and resins, to enhance flexibility and adhesion that work together to create a nail lacquer that is chip resistant, long-lasting, and durable.
Nail lacquers are infused with china clay, which strengthens nails and protects them from chipping.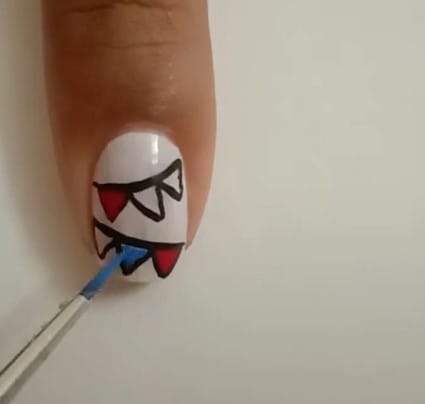 Step 3 Continue with the rest of your nails
To enhance the party look, draw buntings and other patterns as you like randomly. Coat the ring fingernail with glitter and sparkle of all shapes.
Paint your choice of color onto half of your nail. Top that with thin strokes to mimic a cupcake lining. Using white nail polish, draw a half circle on top of the first image to imitate the cupcake frosting. Fill in that half circle with white polish.
No products found.
Try using KADS 3 pcs Nail Art Brushes Set Liner. Achieve tiny details and fine lines with three different sizes of nail liner brushes. With its various sizes, this nail art brushes set is perfect for any nail art enthusiast.
Featuring durable nylon hair, anti-shedding ferrules, and ergonomic handles for the best user- and result-oriented experience.
Draw fine details, fill in colors, and create intricate designs with tapered brushes; use the striping brush to create long lines without effort.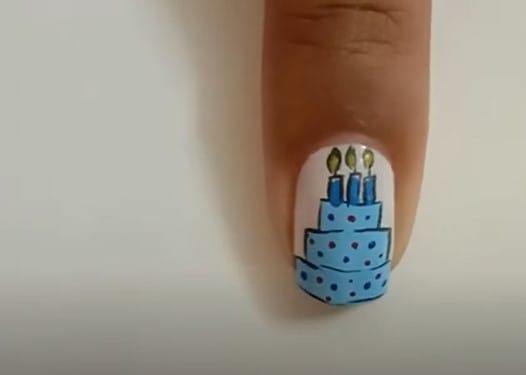 Step 4 Seal the nail art
Apply a fast-drying top coat and seal the nail art.
No products found.
We recommend using Dazzle Dry Quick Dry Top Coat. Part of the Dazzle Dry 4-Step System, this quick dry top coat will add the perfect finish to your manicure. The fast drying formula makes application quick and easy.
The top coat has a gorgeous high gloss finish, making your polish shine. It's non-yellowing, so your nail color will always look its best.
The top coat nail polish does not include harmful ingredients commonly found in nail care products, such as Formaldehyde, Camphor, and SLS.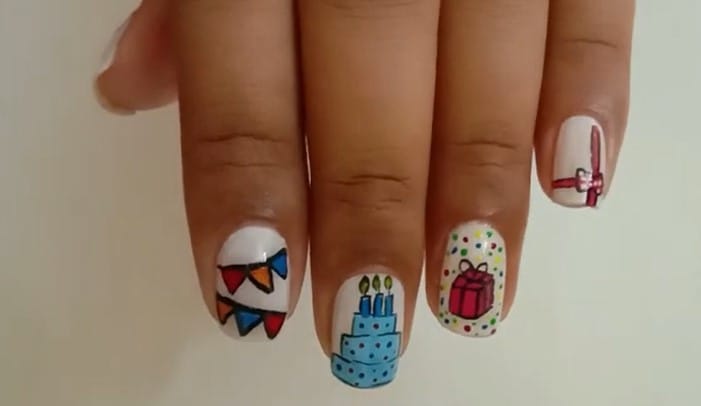 Birthday Nail Ideas Additional Tips To Elevate Your Look
When you cannot decide which nail polish color to apply, go for gradient nails because two colors are better than one. The steps are easy; first, apply two layers of any light-colored nail polish as a base color.
A moisturizing product like petroleum jelly or body lotion will make the cleanup process much easier for you. Apply a thick coat of any moisturizing product that you might have all over the area around your nails and paint your nails as you would normally do.
Since nails and nail drawing are a form of art, you need your ideal tools. Just like every painter needs his or her clean set of brushes, you do too.
Make sure that you have acetone and acetone-free polish remover to clean your tools and work on top of your nails as well.
The only way to make your nails stylish and fun is with the right use of rhinestones and stickers. You can easily add these on top by placing them with your favorite pair of tweezers. Mastering this skill can be difficult, do not rush the process since you might create a big mess.
With a nail stamp, you can get any design you fancy, such as flowers, animals, leaves, and cute quotes! Just by adding a thick coat of color and polish and scraping off the excess amount, you will achieve an elegant and unique stamped outcome.
Aside from stamps, you can also try out using nail stickers for creating 3D art. Just like you'd do with smaller tattoos when you were a child (the glue-on kinds) you can also do with nail stamps.
Common Question About Birthday Nail Ideas
Are birthday nails a good idea?
If you want to make your birthday a memorable and extra special time, birthday nail ideas are a great way to express your uniqueness and take your look to the next level; you'll also make sure your feed will stand out on this joyous day.
Is it difficult to choose birthday nail ideas?
Some designs are simple enough for you and your bunch of friends to proceed at home. However, if you want to add more patterns to your nails, just visit a favorite nail salon to obtain a beautiful brown nail design and make sure you slay on your special day.
Any nail designs can technically be birthday nail ideas, and it's really up to you to put your own spin to make them more special and personal.
What are the 5 basic nail designs?
Most lean toward one of five basic nail shapes: square, round, oval, squoval, or pointed. Though other blended combinations of these shapes exist, these five are the most common.
What is the most popular nail design?
Marble nails are the most popular nail design trend. When it comes to simple nail colors, glitter nails and natural nails are also beloved choices.
Are crystals and rhinestones good birthday nail ideas?
Totally! They look amazing on every type of nail art. Incorporating these ornaments will augment your hands' beauty and enhance your nail art.
Can you draw birthday nail art on glitter nails?
Use a top coat to seal the glitter on your nails, wait until it dries, and draw your design smoothly on your glitter nails. It won't smudge.
Birthday Nail Ideas Video Tutorial
Products Mentioned In This Article