Wishing to ditch your expensive salon visit but still want a unique and stunning manicure? If you are the type that believes that nails should also reflect your own style and personality and spend countless visits at the nail salon to make them pretty, but it feels like it is hurting your wallet, then it sounds like you need the best nail stamp kit.
The truth is, enhancing your nails and getting a stunning manicure will never be out of trend, and with a nail stamp kit, you can't go wrong. The best nail stamp kit brings all the necessary tools to give you a salon-quality manicure in the comfort of your own home; it is a total win.
These kits offer several nail art designs, and they are made of high-quality, long-lasting materials so you can be able to come up with bold, detailed patterns, simple prints, or fun and funky designs. Contrary to what you may think, nail stamp kits are simple enough to use and will save you those costly visits to the salon.
Finding the right nail stamp kit in a sea of options can feel intimidating; however, keep in mind that the results are worth it. If you have no idea where to look for a nail stamp kit, continue down below for our guide on the best nail stamp kit.
Nail Stamp Kit Application Steps
Step 1: Selected the design you want and lay out all the required tools.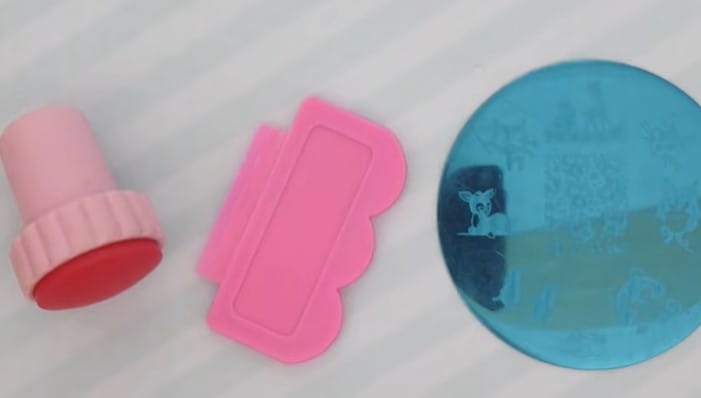 Step 2: Prep your nails
Apply a layer of liquid latex peel-off tape around your nails' skin.
Step 3: Prep your design
Apply a thin layer of special stamping polish to the chosen design on the plate.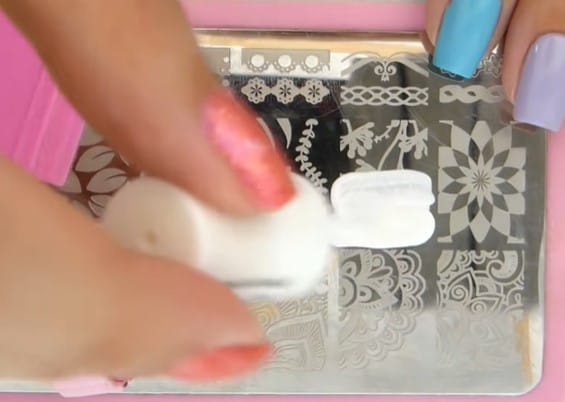 Step 4: Use a scraper to remove excess polish
Remember to use a light hand, hold the tool at a 45° angle, and swipe it towards one side or downward.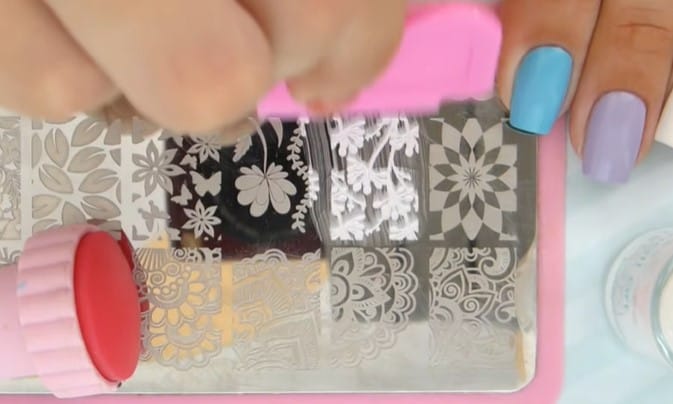 Step 5: Roll the stamper lightly over the design.
Once you have your chosen design on the stamper, quickly transfer the design onto your nails. Peel off the latex barrier and cure or dry your nails.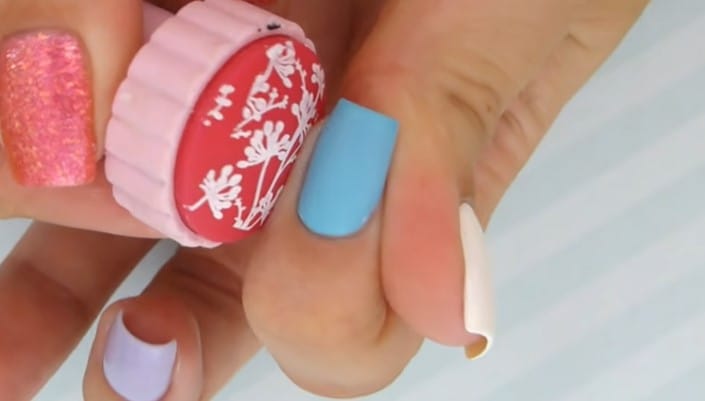 Step 6: Apply the top coat
Finish off with a single layer or multiple layers of top coat for long-lasting wear.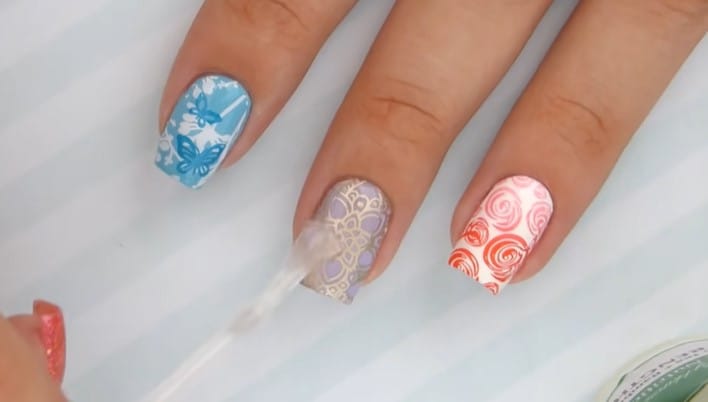 ---
Best Nail Stamp Kit
What We Like
Unique Pattern
More Design
Stainless Steel
What We Don't Like
1pc stamping plate
Very Small
The plate is shielded by a thin transparent protective film; please remove the film before use so that the nail polish can be transferred by the stamper.
It features more patterns to choose from and is a good space-saver; Halloween plates have a spooky theme on the front with a graveyard scene, tombstones, ghosts, spiders, skulls, etc.
This nail stamp kit has a unique pattern; all images on the plate are designed by a designer, offering you personal nail art. It is well protected from bend, scratches, and damage with a transparent film; convenient to store.
Tips
Use solid color nail polish so that the texture will be thicker than other nail polish.
---
What We Like
High Quality
Easy To Use
Steel Plate
The nail stamp kit brings several nail art stamp templates, Galaxy, Line, Flower, Leaf, Feather, Love Heart, Hand, Eyes, Moon, Star, Sun, Starry, Space, Planet, Halloween Theme, and more.
The plate is made from high-quality stainless steel, sturdy, durable, with no bend, and reusable. The deep and precise carving gives you a better stamping effect. You can get images easily.
The nail art plate design adopts a geometric pattern like a triangle, irregular lines, and floral pattern, which can fully meet your daily or party nail art needs.
Tips
Stamp along the arc of the stamper and press in one direction only once.
---
What We Like
20Pcs Nail Stamping Plates Set
11 Series Templates
Precise Carving Technology
The 11 Series templates involved include Fashion, Flower, Nature, Festival, Immaturity, Ocean, Sky, Zoo, Geometry, Chinese, and Summer. Everyone's KADS designs are special and unique.
The nail stamp kit offers exquisite technology and deep carving to make transferring complete and perfect patterns easier. KADS stamping plates 20Pcs kit with one silicone stamper and one scraper.
All plates are packaged in storage bags; everyone is protected with a whiteboard and a blue film to protect both users and plates from damage.
Tips
With this kit, you can create music, leopard dots, beautiful butterflies, all kinds of flowers, summer fruit, French nails, Christmas flakes, and so on.
---
What We Like
Manicure Kit
Gel Paint
Long-lasting
Premium Quality
Saviland nail stamper kit contains 2pcs long & short jelly nail stampers, 2pcs scrapers, 36 colors gel paint nail set, base & top coat, 15pcs nail brushes, nail buffer, nail color diamonds set, laser butterfly decorations.
The stamper is easy to use and picks up patterns quickly. Silicone nail stamper is so clear that you can easily see where you're pressing on nails and not distort the image, easily creating stylish and funny nail art.
The nail art gel in the nail design kit has strong toughness, waterproofing, color stability, and glossy shine after finishing. Bring you a smooth appearance and flawless coverage.
Tips
Wash the nail art stamper with running water or slip solution and dry it in the air, or use scotch tape to remove gel nail polish or dirt when the first time or whenever you find it didn't pick up the patterns well enough.
---
Before using the stamper, please file gently over the stamper's glossy surface to take away the gloss and leave a sticky surface. Need to be cured under an LED/UV nail lamp.
The kit is made using brand new, non-toxic, and harmless resin, high-quality gel with low smell and good tenacity; to protect your health and beauty. There are 2pcs plates available on each kit and completely different patterns of nail plates to choose from.
Mobray 24-48W nail lamp with smart sensor allows you put your hand into the nail lamp; it will automatically light up without manual operations.
Tips
Gel Nail Dryer is ideal for hand and foot manicures, curing nail polish gels, poly nail extension gel, and nail gel art polish; you can make your own nails at home without going to the salon.
---
Common Questions About Nail Stamp Kit
What is nail stamping?
Nail stamping is a technique that revolutionized how at-home nail artists and DIY'ers create art onto the nail using stamping plates, polishing, stampers, and scrapers.
It is simply stamping a specific plate of design on the surface of your nails, and the creative possibilities are endless.
How does a nail stamp kit work?
It usually comes in a set, including the designs and tools that you need. The nail polish is applied on thin steel or metal etched with different designs and images you can choose from, which is then stamped on your nails.
Typically, most kits have the complete set, while others only offer a series of designs to choose from.
Why a nail stamp kit is a good idea?
The best nail stamp kit should offer several benefits; among them, we can mention: the ease of use; it allows you to create designs using reverse stamping techniques and should offer a variety of styles and designs to choose from.
A nail stamp is also a good idea because it cuts down the time and cost of salon visits. It helps you achieve beautifully detailed designs that may not be possible to draw by hand.
Do you need special nail polish to stamp?
Some time ago, regular nail polish was the only option available for nail stamping. But today, many types of polish are out there, all with different consistencies.
Besides regular nail polish, you can use almost any nail polish for stamping if the consistency is right.
What nail polish works best when using a nail stamp kit?
First, it needs to have the right level of viscosity. And it also needs to be creamy.
It needs to be highly pigmented. In such a way, it only needs one coat. Because if you're doing two or more coats, then you're not stamping your nails right.
You should be looking for a product that lets you create clear and crisp designs.
What's the difference between regular nail polish and stamping nail polish?
Regular polishes are much more watery and thin in comparison to stamping polish. So this means that the polish won't cling to the ridges and grooves of the stamping plates instead, it would just run off, making it harder for the nail stamp to pick it up and get a clear imprint.
Stamping polish is an opaque, thicker, one-coat nail polish. It is used to stamp a design over a dried base coat of regular nail polish. You can layer different colors of stamping polish and colors in designs using stamping polish to create more intricate, complicated looks.
Can I use acrylic paint for nail stamping?
Yes, you can use acrylic paint for stamp nail art. Stamping is just another approach for getting a design onto a nail.
How do you clean nail stamp plates?
For best results, experts recommend using 100% acetone to clear the polish and plate without leaving any moisturizing residue on the surface.
Why is my nail stamper not picking up?
Not applying enough stamping polish will dry it out too quickly, and it won't pick up. Hold your scraper at a 45-degree angle when scraping off the stamping polish. Holding it straight up perpendicular to the plate will cause you to scrape too much off.
What can you find in the best nail stamp kit?
Nail stamping plates: The stamping plate is made of metal, usually steel. It is where the polish is applied and then used to stamp on the surface of your nails.
Nail stamping polish: Compared to the usual nail lacquer, stamping polish has a different formula made specifically for nail stamping.
Clear jelly stamper: The specific nail stamper is usually made of rubber or clear and transparent silicone. This is used to transfer the design from the plate onto your nails.
Scraper: You need the scraper to remove excess nail polish on the nail stamping plate. It comes in a wide variety of shapes, colors, and the sort and most flexible ones are the best types of a scraper.
Lint roller or tape: Responsible for cleaning the stamper surface between applications.
Base and top coat: You can't do without your base coat. This is a staple for every manicure, including your nail stamping kit. This prolongs the life of your stamped-on designs while also protecting your nails and its freshly applied nail art.
Best Nail Stamp Kit Video Tutorial
Products Mentioned In This Article