It is getting closer to that time of the year when brown nail designs are making their way back to the spotlight. With autumnal tones taking over as the shade of the season, you might start wondering about ideas for your next salon appointment, or better yet, decide to take on a brown nail design on your own, which is exactly why we are here.
If you are up to date with the latest nail art trends, then you already know that brown nails are a must this time of the year and are a great choice for those who make their nails an essential part of their overall looks. If you can relate, then you are in for a treat as we share everything you need to know about brown nail designs.
Brown nails are not only elegant and fashionable, but they also make you stand out from the crowd in a mysterious kind of way. Even better, brown nail designs can be worn by both young and mature women; in addition, brown nail designs are also loved by many because they complement any skin tone.
It is safe to say that brown nails offer great versatility, making them perfect for hanging out with friends, attending a party, going to work, or even a romantic getaway. So, if stylish nail trends attract you, brown nails perfectly match you. If you have no idea where to start, do not panic; continue reading and learning more about brown nail designs.
Brown Nail Designs Inspo/Ideas
Matte polish: Matte is everywhere now, from makeup to our manicures. They are a forever classy finish to enjoy. Make each nail have a different pattern that stands out on its own. What is fun about this design is that it is good for everyone, including beginners.
Short nails with floral: Brown nails can look just as stunning with a flower pattern. You can really enjoy this color combination all year round.
Different brown shades of acrylics: Among the different shades of brown, you can make one hand with two sets of glitter nails and the other with only one accent nail.
Nude color mix: Have your brown nails mixed with some white mocha. You can achieve this stunning design by finding the balance between gray and brown. You can pull it off once you have a steady hand.
Simple square brown acrylic nails: Square shape nails are never out of style; if you are looking for nail designs that are good for all occasions, you may consider these. For an extra pop of color, add gold topping to a couple of nails.
French tips: French tips nail has been around for years, and this is a nice way to buzz them up from classic to modern.
Autumn color swirls: Sometimes, just a little swirl can enhance the beauty of your nails. Have your nails done in light pink acrylic, and then draw some swirls on it.
How To Do Brown Nail Designs
Step 1 Apply base coat
Begin by applying a base coat to your nails. This will help protect your nails from staining and will also provide a smooth surface for your ombre design.
No products found.
We recommend Mineral Fusion Nail Polish Base Coat. It is Formaldehyde Free – Vegan – Cruelty-Free – DBP Free – Toluene Free.
This long-lasting, chip-resistant nail polish applies flawlessly with our custom, extra-thick brush. Leave your nails beautiful and healthy. Beautifully kept nails can be a real confidence booster and a great way to feel good.
Mineral Fusion offers a full line of nail products, including 64 shades of nail polish, gel top coat, nail-strengthening base coat, cuticle treatments, and nail polish remover. Vegan and carbon-free.
How to use Mineral Fusion Nail Polish Base Coat:
Apply one coat of our nail strengthening base coat to clean the nails
Let dry for one to two minutes.
Follow with two coats of nail polish; for best results, apply a long-lasting gel top coat.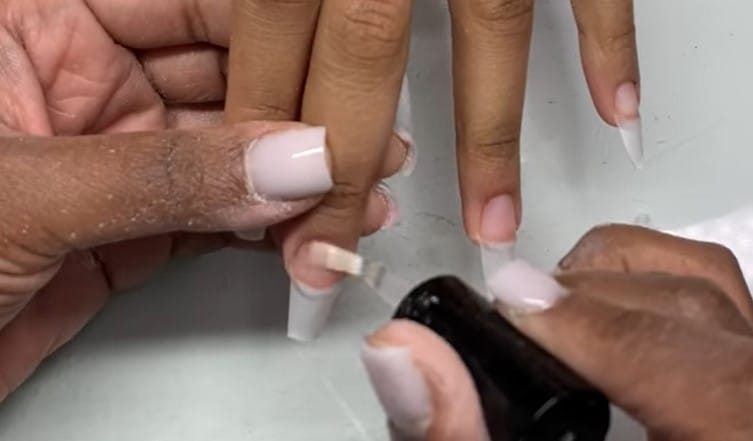 Step 2 Apply color
Next, apply a light brown polish to your nails. We recommend using a brush with fine bristles for this step, as it will give you more control over the color.
No products found.
You can use Essie Nail Polish, Soft Sandy Beige, Nude. This glossy nail polish provides flawless coverage and outstanding durability. Includes the exclusive easy-glide brush that fits every nail size for streak-free application.
The seductive power of soft sandy beige nail polish is not to be underestimated. trend-setting, neutral pastel is the most alluring manicure on the riviera or anywhere else.
For a perfect manicure, use apricot cuticle oil, Essie base coat, 2 coats of Essie polish, and seal with Essie top coat.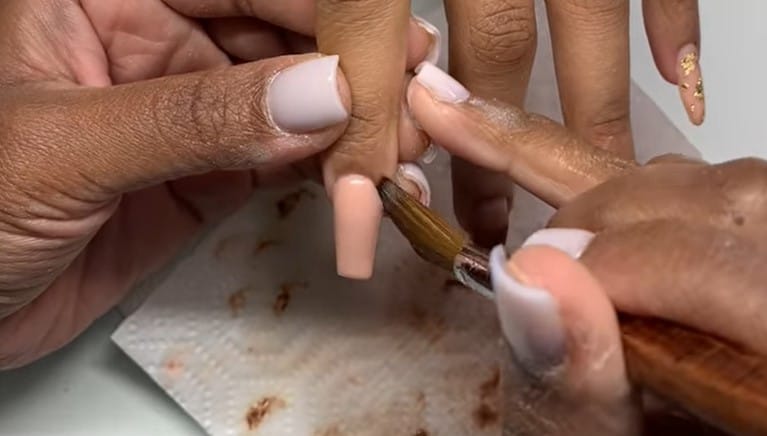 Step 3 Apply a darker shade to tips
Once the light brown polish has dried, apply a darker shade of brown to the tips of your nails. Again, experts recommend using a fine-bristled brush for this step.
No products found.
Try using Nail Polish by Revlon, Super Lustrous; this chip-resistant and long-wear formula offers a high shine finish in total toffee.
The chip defiant and anti-fade technology gives you brilliant color that stays fresh. ShadeLock Technology will help your color stay vibrant longer for fade-resistant wear.
The nail polish brings a precision brush that applies just the right amount of polish for easy, smooth, bubble-free application.
Five-free formula means you won't have to worry about formaldehyde, dibutyl phthalate, toluene, formaldehyde resin, and camphor.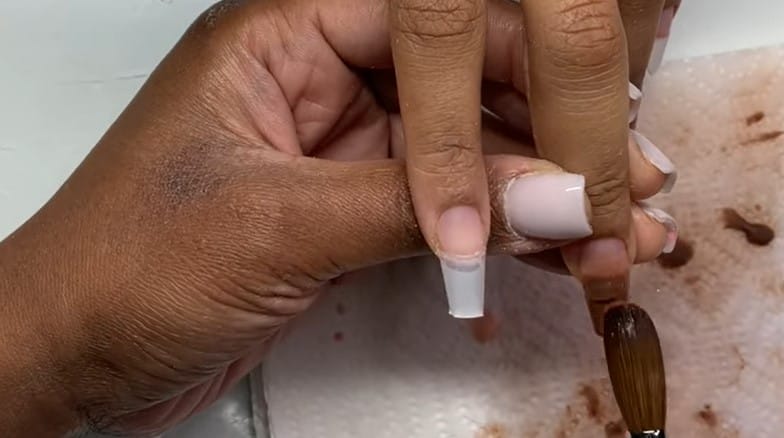 Step 4 Blend colors
Finally, use a clean brush to blend the two colors together. Start at the tips of your nails and work your way up towards the base. Remember to go slowly and be careful not to over blend the colors.
No products found.
Try using KADS Kolinsky Sable Brush; it is a great brush for acrylic powder, ideal for drawing lines and fine drawing on nail tips. A quick, easy and affordable way to create artistic designs on your nails.
The multi-function nail brush can be used for a nail brush (one side) and a nail dotting pen (another side); it is durable enough for your daily use.
This Nail Art pen is a NEW and revolutionary nail design tool that allows a quick, easy and affordable way to create artistic designs on your nails. Doing your nails has never been so easy. It's simple and easy to use for all ages.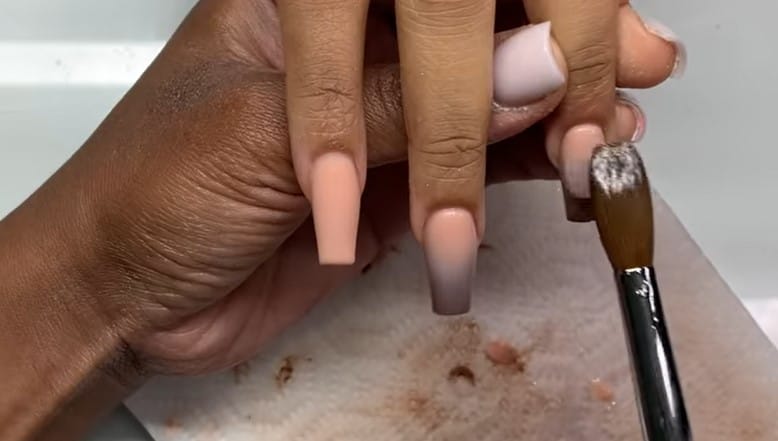 How To Do Brown Nail Designs Additional Tips To Elevate Your Look
Once you've mastered your brown nail designs, there are endless possibilities for how to decorate your nails. You can be as creative as you want.
One great way to add a little extra flair to your nails is to use tape or stickers to create different patterns. This is a great way to add some interest to an otherwise simple design.
Another option is to use a cotton swab, or Q-tip dipped in polish remover to create different effects. For example, you can use this technique to create a leopard print design on your nails.
Simply dip the cotton swab in polish remover and then dot it onto your nails in the desired pattern.
Common Question About Brown Nail Designs
Why choose brown nail designs?
If you are looking for chic nail art, brown nail designs are right on top of nail art. Additionally, brown nail designs are suitable to wear this Fall. Remember that brown acrylic nails are stunning and most popular during the fall season.
Is it difficult to get brown nails?
Some designs are simple enough for you and your bunch of friends to proceed at home. However, if you want to add more patterns to your nails, just visit a favorite nail salon to obtain a beautiful brown nail design.
Why are brown nail designs so popular?
Some people like brown nails so much because they remind them of nature. Some of our favorite treats are brown, chocolate, hazelnuts, cocoa, human skin color, hair, and animals.
Brown Nail Designs Video Tutorial
Products Mentioned In This Article