When doing your manicures at home, you need the best tools to ensure a quality nail look. We are talking about nail clippers, brushes, nail files, etc. However, getting your tools is only one part of the job; you also need to take care of them. That's why today we'll tell you all about how to clean nail tools with barbicide.
Keeping your nail tools has always been essential to a quality manicure. With hygiene procedures being tightened up following a pandemic, it is more important than ever before. If you aren't that confident in the cleanliness of your nail instruments, you are in the right place.
In this step-by-step guide, we'll share with you the best and easiest method to clean your manicure care tools, which is with the help of Barbicide, a well-known formula in the industry widely used to disinfect grooming tools. Perhaps you've seen it at salons before, that little jar filled with blue liquid sitting on your nail technician's table.
Remember that if you fail to properly clean your nail tools, you are compromising your quality manicure; your tools may not work as you need them to. So if you want to be able to clean your nail tools just like professionals do, take a look at the guide below and learn all about how to clean nail tools with barbicide.
Most Common Nail Tools
Nail clippers: A nail clipper is the most basic tool that you need for manicures and pedicures. Trimming them from time to time is important for maintaining overall health.
Nail file: This tool is used to gently grind the edges of your nail down to make them smooth. They're also used in helping shape your nails.
Nail buffer: The nail buffer's main job is to give your nails a consistent look. They help buff out any ridges or peeling nails to create a smooth base.
Cuticle pusher: Cuticles require special care, so they don't end up dry and flaky. A cuticle pusher is used to push back the skin on your nails.
Cuticle cutter: While you shouldn't actually cut your cuticle away, cutting the excess skin that collects around your cuticle, hangnails, and dry skin is what this tool is mostly used for.
Nail brushes: This help gets under your nails to clean them. If you want your nails to look neat, using this tool every day can definitely help you achieve that.
How To Clean Nail Tools With Barbicide
Step 1 Wash your nail tools
First of all, remove all visible debris. Soak a sponge or brush in soap and wash your cosmetic tools, one by one, with warm tap water and soap.
You can use just plain soap for this. Rinse thoroughly and pat dry your tools with a towel.
For this step, you can use ForPro Premium Nail Brush. The ForPro Premium Manicure Brush removes dirt from fingernails and hands.
These feature a sturdy handle that is easy to grip and features a hole for hanging.
The black nail brush is sturdy yet lightweight enough for convenient usage.
The manicure brush is ideal for all manicure services. It is great for use at home or while traveling. It can also be used to clean nail implements.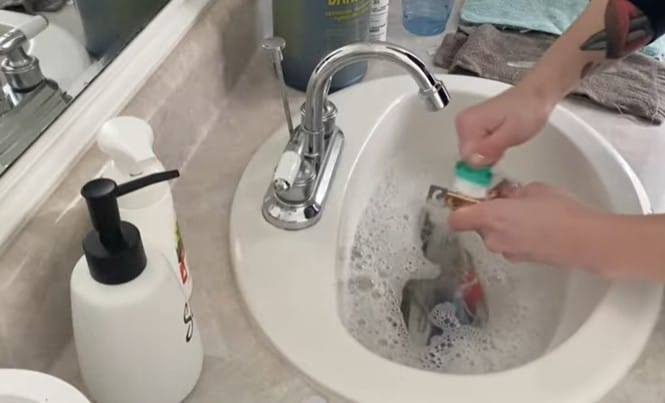 Step 2 Prepare the disinfecting solution
Dilute the solution as mentioned on the product's label. You can easily find Barbicide Disinfectant Liquid Gallon online.
Barbicide is known worldwide as the ultimate product for EPA-registered, hospital-grade disinfection in salons, barber shops, and spas.
The iconic blue liquid is trusted and effective, earning its reputation for creating a safe and clean salon. Barbicide concentrate is economical for use in every salon, barbershop, and spa.
The anti-rust formulation protects your expensive shears and is safe for non-porous surfaces, including tanning beds, metals, stainless steel, plastics, combs, brushes, etc.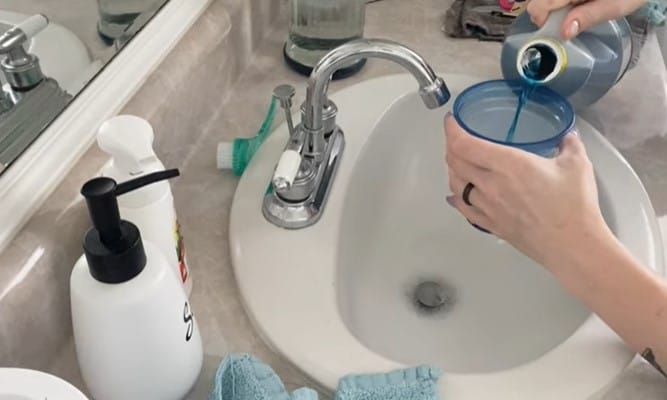 Step 3 Transfer your tools to a disinfecting container
After the disinfecting solution is ready, put your nail tools in the disinfectant. If they don't fit all at once, put them one by one.
Fully immerse and soak in the Barbicide solution for 10 minutes to disinfect. The best solution to ensure you respect the timing is to set an alarm when you immerse them.
For best results, we recommend Barbicide Disinfectant Jar. The Barbicide Disinfecting Jar has become the iconic symbol for safety and cleanliness in the barbershop.
Still made with the same quality as it was decades ago, the jars come in three sizes to meet your needs for disinfecting all sizes of implements.
The custom-molded glass with stainless steel assembly provides convenient, easy disinfection of instruments and salon tools. It is designed especially for total immersion of manicure implements.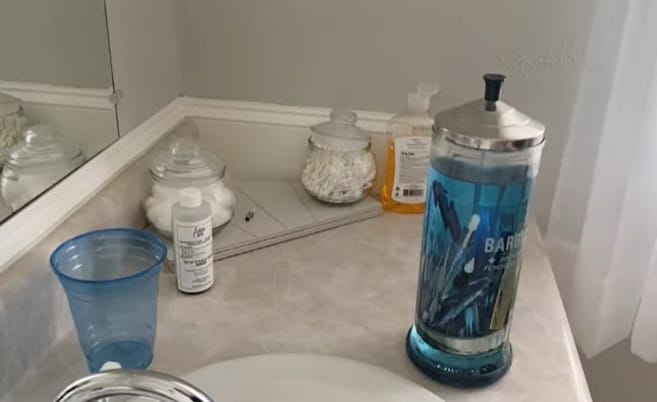 Step 4 Rinse with water
Your tools are now disinfected, so it's time to rinse them with tap water to remove the disinfecting solution from them.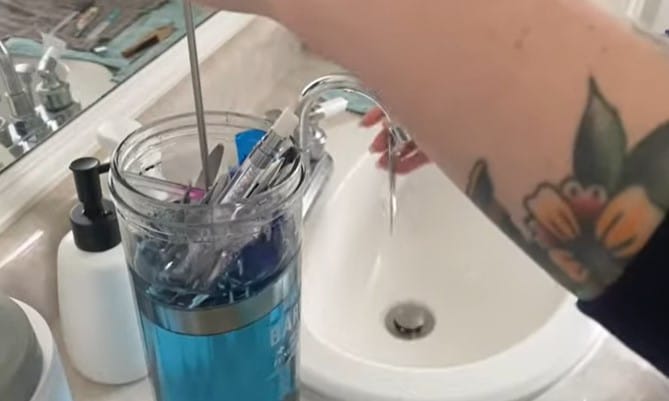 Step 5 Dry and store your tools
After rinsing your tools, put them on a paper towel and let them dry completely. Store in a clean storage container.
We recommend Gusnilo Nail Art Tools, and Plastic Storage Box for Nail Tools. When the lid is opened, the drain basket tray of the box can be lifted automatically.
Put nail tools or haircut tools into the tray, pour the liquid, and start working. The storage container is suitable for personal home use, nail salons, artist nails, etc.
Whether you are trimming your nails or doing a manicure, this storage and Sterilizer box to clean the nail tools is perfect for the dirty job.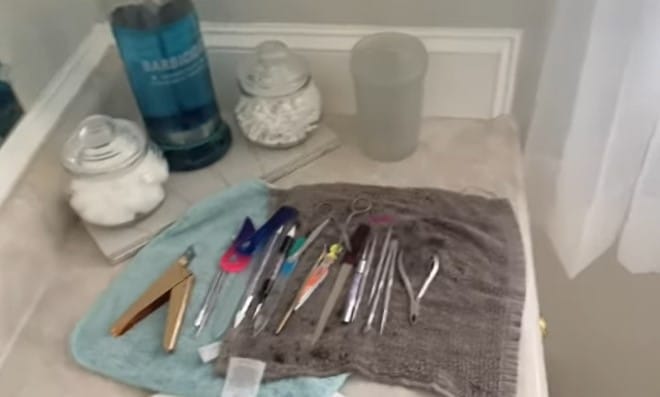 How To Clean Nail Tools With Barbicide Extra Tips
For items like combs, shears, brushes, and nail clippers, immersion in Barbicide for ten minutes is the best choice. Once the contact time is complete, remove the implements and rinse them with water.
Once the solution comes in contact with implements, you need to change it 24 hours later, or sooner if contaminated.
Counters and chairs also need to be disinfected. You can spray counters, chairs, mirrors, and sinks down with Barbicide. Once again, those must be visibly wet for ten minutes, then wipe with a clean cloth.
Common Questions About Cleaning Nail Tools
Why is it important to know how to clean nail tools with barbicide?
In general, cleaning your nail tools will save you lots of headaches; by learning how to clean nail tools with barbicide you are ensuring the life span of your valuable tools and their hygiene level of them, ultimately the quality of a good manicure.
While regular alcohol can only kill certain germs, Barbicide is a higher-grade disinfectant and kills viruses too.
What is barbicide exactly?
Barbicide, an EPA-registered product, is the most commonly used beauty salon disinfectant that kills germs and fungi.
You need to be careful and follow the instructions before using it, as you risk damaging your tools if you put too much Barbicide, or not disinfecting them if you don't use enough solution.
How do you sterilize nail care tools?
Submerge them in disinfectant for at least 10 minutes. Either remove them or leave them in a disinfectant jar on your station.
If removed, place them in a sterilizer or clean draw. After sterilization, leave your nail tools in the sterilizer until you are ready to use them.
How do you dilute barbicide for nail tools?
Barbicide comes as a concentrated solution that has to be mixed with water. Specialists usually recommend mixing 60 ml. of Barbicide with 1 liter of water. To disinfect your cosmetic tools with Barbicide.
How long should tools sit in Barbicide?
Immerse, wipe or spray your item with an appropriate disinfectant. According to the manufacturer's recommendation, it is best to ensure the items are fully immersed for 10 minutes, or the surface must stay visibly wet for two full minutes.
For items like combs, shears, brushes, and nail clippers, immerse them in Barbicide for ten minutes. Once the contact time is complete, remove the implements and rinse them with water.
How often should I change Barbicide?
Barbicide should be changed two times per week for all containers used to submerge combs, brushes, shears, and instruments. This includes the Barbicide jars or plastic tubs.
Change the solution immediately when it becomes contaminated with blood, cloudy, or full of hair.
Do I need a special jar to use barbicide?
In addition to the formula, you will also need a special Barbicide jar to help you easily remove your tools from the solution after 10 minutes.
Is Barbicide safe on the skin?
Remember to avoid contact with your eyes, skin, and clothing. Do not eat, drink or smoke when using this product. Wash hands after handling.
What can I use instead of Barbicide?
As an alternative to how to clean nail tools with barbicide, you can use disinfectant powders. This kind of disinfectant is commonly used for medical devices, but it also works perfectly for disinfecting your cosmetic tools.
How do you sterilize nail equipment at home?
Place your nail clippers, glass nail files, and callus removing tool into a clean bowl. Again, using the Isopropyl Alcohol, cover your tools completely.
Allow them to sit in the solution for 30 minutes. If you do not have Isopropyl Alcohol, you can boil your metal tools in water for 20 minutes.
How To Clean Nail Tools With Barbicide Video Tutorial
Products Mentioned In This Article