If you are searching for new and out-of-the-ordinary, attention-grabbing nail designs, you are in the right place. Many people wonder if red nail polish is out of style, and we are here to tell you red nail designs are trendier than ever, so if you are yet to try a red nail design, go for it, and you won't regret it.
Contrary to what many may think, red nails can be pretty versatile; you can totally go from a sophisticated event or a romantic date night to a busy day at the office. With the best red nail designs, you can forget about boring and basic colors and be ready to stand out from the crowd.
The best part is that you can play with the tones, top coat, nail shape, or decorations to make your red nail designs really unique. And if you must know, red nails can assert your position as a leader, boosting your confidence and garnering the confidence of those around you.
So, if you are ready to mark yourself as someone who is daring, dramatic, and outgoing and is ready to make the ultimate statement of glamour with this bold, look-at-me color that speaks of passion, fire, and confidence, then choose any of the red nail designs we have chosen specially for you below.
Shades of Red Nail Designs
While red may be a brighter option, it is still considered a classic color. However, you can choose between various shades of red; some may be considered more classically professional than others.
The various shades can also tell a lot about a person when looking at what red nail polish means.
The classic red color is brighter, but can still look professional in the workplace. It blends well with most outfit colors and gives off a sophisticated look while still being quite fun and exciting.
A darker shade of red is a great, subtle option for the workplace. Maroon shades are lovely and flattering to almost every skin tone.
If you work in a more creative space that encourages you to express yourself through the way you dress, why not go glittery? A shimmery red is a wonderful way to elevate your everyday look.
Red Nail Designs Ideas
Short red nail designs
Short red nail designs are for you if you are into short nails. Short matte red nails are the most stylish option that will never go out of fashion.
In addition, a red manicure allows you to emphasize the brightness and originality of any woman. Since the palette is quite diverse, you can experiment with shades and color mixtures.
No products found.
If you wish to opt for a short red nail design, we recommend Kiss VOGUISH Fantasy Matte Red & Glossy Finish White Long Length Nails. These are perfect for Valentine's Day and feature a matte and glossy finish.
Kit contains 28 nails, pink gel glue, a prep pad, a mini file, and a wood stick. SuperHold adhesive makes nail stay put and stay perfect for days. Chip proof, smudge-proof, waterproof & no dry time.
Press-on Manicure is super slim and comfortable; the gel nails look & feel like your own. Application takes minutes, and removal is hassle-free.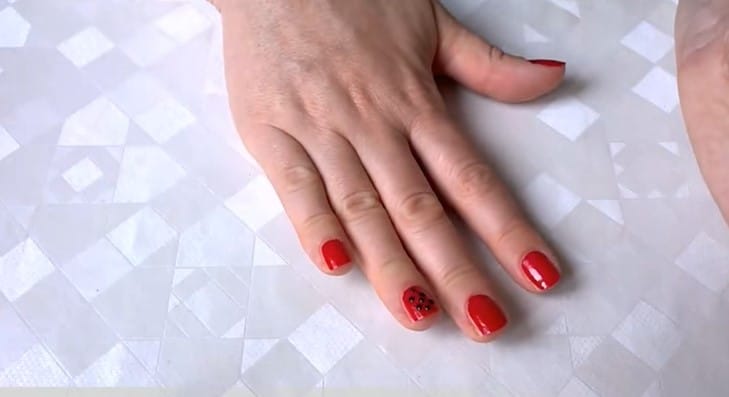 Acrylic red nail designs
If you feel it would be better not to have bright nails, just add red stripes to the nude base, which is a great idea for a discreet manicure every day.
There's something so underrated about minimalist acrylic red nail designs with plain red nail polish. This is convenient because that's also all we can manage to do by ourselves.
No products found.
We recommend AddFavor Extra Long Acrylic False Nail. The extra long press-on nails ten feature super long glossy shine ballerina design fake nails that will make your nails more elegant and stylish.
These false nails are made with higher-quality plastic that is durable, sturdy, and lasts much longer. Suitable for professional nail technician on Nail Salon, nail art lover at Home DIY. It is a beautiful gift for teens, white-collar workers, ladies, etc.
You can match them with different styles of clothes; you can also match them with other nail sequins, colorful nail polish, rhinestones, or other decorations, which will create much fun and make your nails look more charming.
How to use AddFavor Extra Long Acrylic False Nail
You will get a salon effect in a few minutes just clean your natural nails
Apply strong nail glue/adhesive tabs on fake nails
Then press on nail tips on your natural nail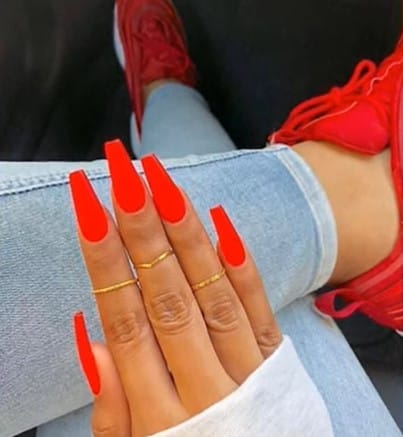 Dark red nail designs
You can always choose dark red nail designs if bright red isn't your thing. Choose a burgundy nail polish; considered a timeless classic, it looks great both in plain color and in combination with various designs.
Keep in mind that dark red nails are a great option despite your age, and they also suit all seasons. If you dig dark red nail designs, you can try essie expressie Quick-Dry Vegan Nail Polish.
No products found.
Essie is the go-to nail brand that is perfect for salon professionals, beauty junkies, industry insiders, celebrities, and fashion icons worldwide. Not so Low-Key blackened Burgundy nail polish from Essie expressive quick dry on-the-fly nail polish.
This fast-drying nail polish dries in about a minute, so you can grab, apply, and dry it on the fly. This nail polish features an angled brush for easy self-application with both hands, including your non-dominant hand.
To switch, simply flip the brush and angle it down. Apply two coats of any expressie color on clean nails and let dry for about a minute; no base or top coat needed.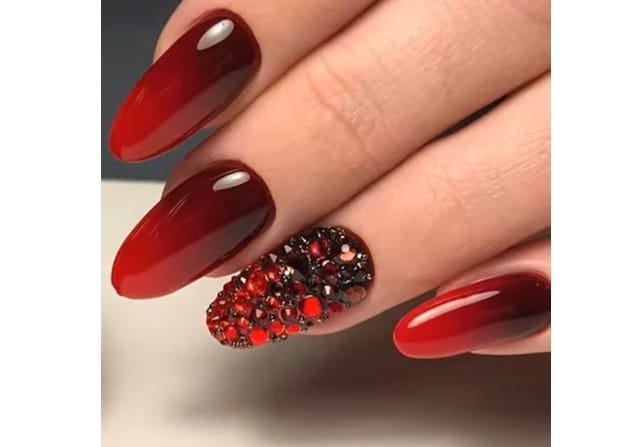 Summer red nail designs
Many ladies prefer to decorate the ring finger with drawings, modeling, acrylic powder, rhinestones, lace, and other patterns, making perfect summer red nail designs.
You can go for a white polish and apply nail cherry or strawberry stickers. That will look perfect and attract tons of attention! Highly-detailed tips are one of the best ways to enjoy your summer without worrying about your mani looking on point.
No products found.
We recommend these pretty Cherries Fruit Series Full Wrap Nail Polish Stickers. With these sheets of self-adhesive nail stickers, you can even change it every day within a week according to your mood.
The nail art products are made of Eco-Friendly material and will not do harm to your natural nails and skin. You can decorate most types of nails, such as natural nails, false nails, acrylic nails, and more.
You can apply this nail art polish sticker before dating, wedding, party, working, gathering, and more. It is a very convenient way of nail art. These exquisite full-cover nail wraps are also portable and light in size and weight.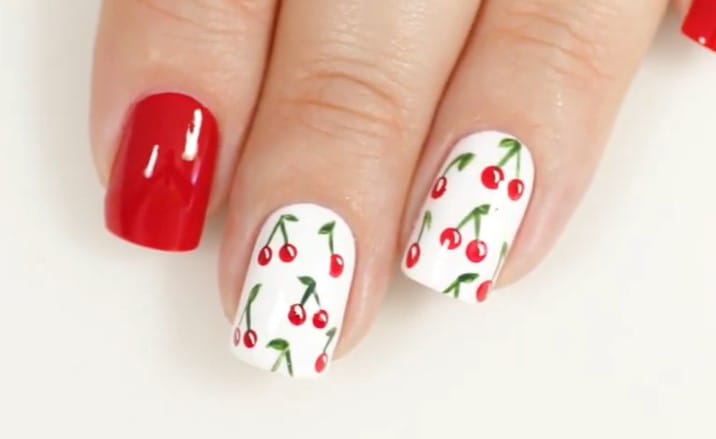 Red nail designs with glitter
Feeling festive? Red nail designs with glitter are just the thing for you. Cute glitter nails don't lose their relevance ever.
Many women consider it a festive manicure and prefer to do it for some holidays. However, this trend has become a lot more casual. It is a great way to use your favorite red nail polishes in a new approach.
No products found.
Try False Nails Bling Red Gel Glitter Medium Tips. These gel nails are made by using spray-on technology to make deep rich, vibrant colors.
Glitter is then embedded into the nails to create the gel effect, and we finish each nail with a top UV coating for added protection. These are square-shaped nails but with rounded edges, creating a natural, sophisticated, almost tailored look.
It is the most flattering false nail shape, which is probably why it is our most popular. These nails are long enough to create a fashionable look without becoming a hindrance.
They will give you optimum functionality and are perfect for office admin, keyboard typing, and the general day-to-day rigors of our busy lives.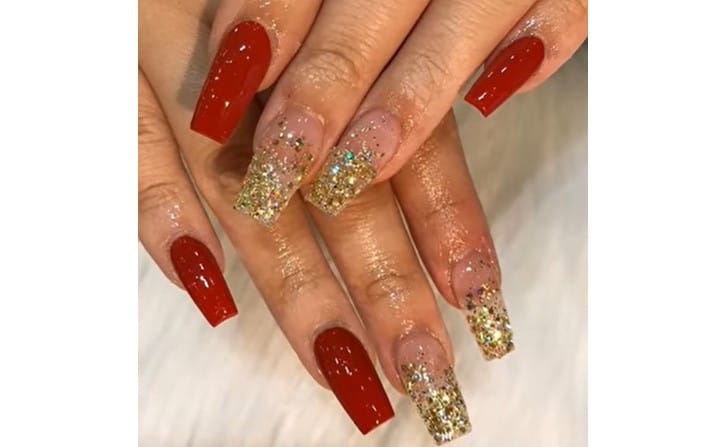 Red Nail Designs Additional Tips
Chipped nails will diminish your overall look regardless of the shade you opt for. To ensure that your nails look freshly manicured at all times, add a clear top coat polish to prevent any chips or scratches.
Start with a base coat to prevent any staining on your nails from direct contact with the color when you remove red nail polish.
Keep a bottle of the color you have on your nails in your handbag or your office desk so you have it on hand for a quick emergency fix-up at any given time.
To keep your red nail designs on point, you also want to keep your nails trimmed and filed using a buffer file.
Common Question About Red Nail Designs
What do red nail designs symbolize?
Red nails are a bold choice, and they have the ability to grab attention and make a powerful statement. This hue is often associated with romantic love and passion, but it can also give the wearer confidence.
There are various shades to choose from, all of which allow you to show off your hands perfectly and let others know that you are anything but a wallflower.
Do red nails look good?
Red nail designs definitely look good. It is a timeless color and has been popular for decades, although it takes a lot of confidence to pull off because it is guaranteed to draw attention to your hands.
Keeping this in mind, it is important to ensure that your nails are well-manicured, as chipped polish or unkempt talons are especially noticeable when painted in this bold hue.
Are red nails professional?
If you are wondering if red nail polish is a professional shade, the answer is a resounding yes. There is often the question of whether red nail polish is classy, but it has proven time and time again to be an elegant choice.
Red can be a great option for the workplace as long as your nails are neat, without chips or smudges to the polish.
Are red nails classy?
Red nail polish can be classy, although it is not always appropriate for every occasion. For example, if you work in a very conservative environment, opting for a simple, natural shade may be best.
Can I wear red nail polish in the summer?
Reds are a classic for a reason. But this summer, warmer tones like this orangey red will add a hot oomph to your nail beds rather than deep, blue-based reds (which are better for winter). Wedding season sometimes requires a few neutral nail polishes.
What goes with red nails?
Anything from a casual black shirt to a more formal black dress will work perfectly with this color. Pair red nail polish with jeans. Generally, choose darker shades of denim instead of lighter ones when wearing red nail polish. Wear white in moderation.
What are ombre nails?
Ombré nails (just like ombré hair) are a type of manicure in which a color gradient is created. A light color on the top of the nail gradually blends into a darker color toward the tip.
What color of nail polish goes with everything?
If you don't know how to wear white nail polish, don't fret, it's actually the easiest color to pair. White nails truly go with everything and make any color pop.
How to do your own manicure?
Clean your nails with polish remover.
Clip, file, and buff.
Push back your cuticles.
Exfoliate hands, wrists, and forearms with a scrub that eliminates dead skin cells.
Moisturize your hands and cuticles.
Apply a base coat to hydrate and protect nails and prevent chipping.
Apply your first coat of color.
Apply your second coat of color.
Finish with a top coat.
Clean up rough edges and let your nails dry.
Red Nail Designs Video Tutorial
Products Mentioned In This Article