Are you into stunning-looking nails and are not afraid to stand out? Then glow in the dark nail polish has been made with you in mind. If you've wished to take your nail game to the next level, the power of an extra glow and sparkle should never be underlooked.
When it comes to nails, all you need is your creativity; almost anything becomes possible to create with the appropriate nail polish and decorations. For instance, if you wish for an elegant nail style, you can't go wrong with gel nail polish. You can add stickers or stamps or some other nail decorations to make things even more festive if that's the kind of vibe you are going for.
So let's say instead of your regular nail enhancement routine, this time you want something different, you are looking for an extra glow, and if by extra glow you are thinking the kind that shines in the dark, then we are on the same page, and what you need is glow in the dark nail polish.
Bottom line, if you wish to sport a fantastic and different manicure and feel a little daring, do not let regular polish stop you and choose the best glow in the dark nail polish for you. If you have no idea where to start, stick around, and we'll share with you some of the best glow in the dark nail polish options currently on the market.
Glow In The Dark Nail Polish Tips
With glow in the dark nail polish is important to use first a nail polish base or regular nail polish for that matter. This is to remove the glow-in-the-dark nail polish easier. Opt for a light color base, like white which is always a good choice. You can also work with neutral colors like light beige or a clear gloss.
Glow in the dark nail polish may take your nail polish a little longer to dry than normal, so make sure not to ruin your nails by touching something.
You could test out the glowing effect in a dark room if you're too excited to wait until it's actually dark outside. The glowing effect on your nails only lasts for a few hours. At this point, you can try reapplying more polish.
You can use a highlighter pen to make your nails glow. Yellow highlighter is a good choice because it usually does glow. Before you paint your nails, you can check the highlighter under a black light. Apply a base of nail polish before applying the highlighter to your nails, then put your nails under black light and seal the look with a top coat.
How To Apply Glow In The Dark Nail Polish
Step 1 Apply base coat
Start with a white base coat if you can, particularly with lighter colors. It will help the polish glow more brightly.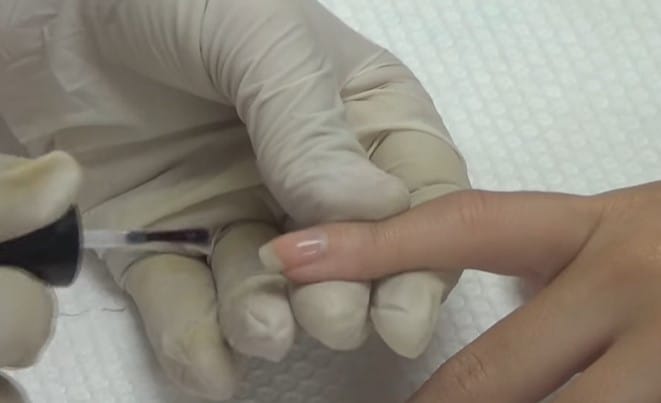 Step 2 Apply glowing nail polish
Be patient as you apply it; glow in the dark nail polish tends to have a slightly thicker texture than ordinary polish. You'll need two or three coats.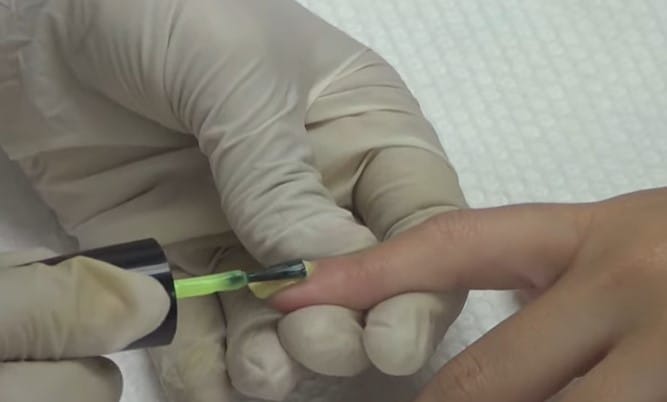 Step 3 Apply top coat
The pigment in glow in the dark nail polish tends to leave the finish semi-matte and very lightly textured. Definitely use a good top coat to finish it off.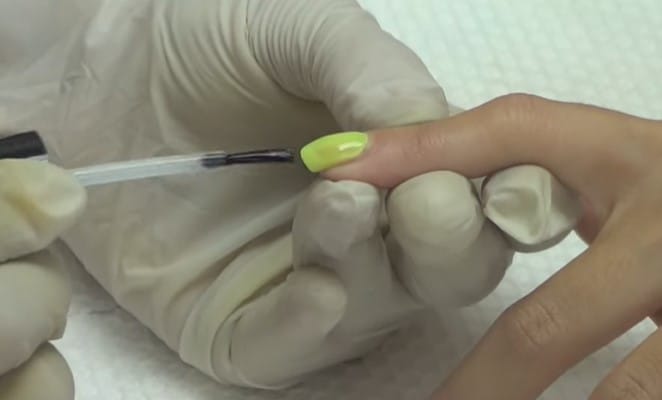 Step 4 Test the effect
Now that you've put the glow-in-the-dark nail polish on, you're ready to check out the effects. You could test out the glowing effect in a dark room if you're too excited to wait until it's actually dark outside.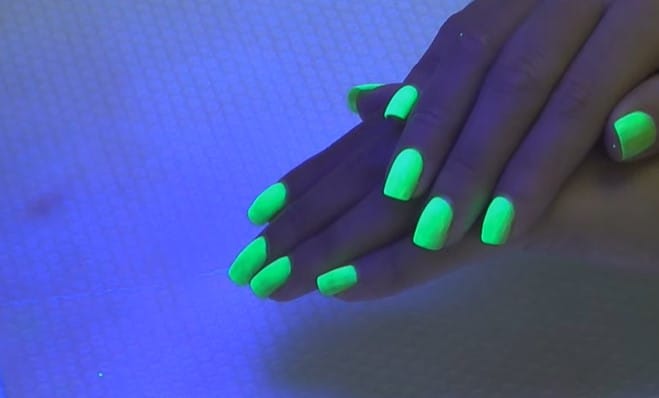 Best Glow In The Dark Nail Polish
No products found.
What We Like
Glossy
3-in-1 Formula
Fast Drying
Get Halloween ready and let your nails glow with Sally Hansen Insta-Dri Glow In The Dark nail polish.
These shades will add mystery and magic to your Halloween look. The glow in the dark nail polish is available in seven fantastic, glowing shades
This 3-in-1 formula with a built-in base and top coat offers shiny, extended wear in a single step, and the Swift Precision Brush allows for a perfect application. It dries in 60 seconds.
What Our Testers Say
Ghosted- Very sheer green polish with green sparkles. There's not much color by itself, but it looks great with a few coats over a darker polish. Once the lights were off, this polish was bright and did exactly what it advertised: glow in the dark!!
---
No products found.
What We Like
Chemical Free
Low Odor
Safe
Wash hands with soap and water. Apply 2 -3 thin coats of Piggy Paint. Use Piggy Paint Basecoat for extended wear and Topcoat for added shine.
This glow in the dark nail polish features natural ingredients making Piggy Paint nail polish virtually odorless compared to solvent-based alternatives.
You can rest assured that this water-based polish is safe for pregnant & nursing moms and for use on babies, toddlers, and young children.
Tips
For best results, use our Basecoat/Sealer and Topcoat. Use a blow dryer on each layer to help ensure scratch and chip-resistant results
---
No products found.
What We Don't Like
Pricey
The brush could be softer
With our ultra violet nail polish, you can create colorful, vibrant, and fun looks that will come to life under UV glow thanks to a unique formula.
The lightweight and portable bottle provides maximum nail polish coverage. It is packed with natural moisturizers to glide on easily.
The set's six vivid colors are pink, yellow, orange, green, blue, and purple. Wear day or night; they are bright neon colors in the daytime or under regular lights.
Tips
Apply a thin layer over a base coat and let dry for 2 minutes. Follow with a second coat of color and top coat.
---
No products found.
What We Like
Non-Toxic
Easy To Apply
Dries Quickly
Bright, neon colored in natural light, this glow in the dark nail polish produces an incredible glow under UV Lighting/Blacklights.
Create stunning effects on your nails using Moon Glow Neon UV Nail Varnish. Bright, neon colored in natural lighting, they fluoresce spectacularly under UV Lighting / Blacklights, producing an incredible UV Glow.
Perfect for clubbing, parties, festivals, UV sports, stage performances, and anywhere with UV Lighting.
Tips
To use, simply apply directly to nails or on top of a base coat. The varnish is highly pigmented; apply a second coat if desired.
---
No products found.
What We Don't Like
Not Very Long-Lasting
Halloween Themed Only
Black and orange bold grow in the dark Halloween nail wraps to elevate your outfits and celebrate the autumn/fall season. Strong color nail polish strips with a scary pumpkin head and spider web design.
Each order will come with a cute light-grey drawstring bag, and each set of nail wraps is packed in its own poly bag. Ensure personal hygiene.
Nail wraps are made from adhesive stickers and can be easily applied to your nails within a few minutes. More fun to do nail wraps with your friends and family.
How To Use Glow in The Dark Nail Wraps:
Make sure your hands are clean and dry before applying those nail wraps.
Peel the nail wraps from the plastic base
Use the correct size nail wrap for each nail and gently stretch to fit your nail.
Use a nail file in a downward motion only to trim nail wraps to the shape of your nails.
Apply a top coat or a UV gel on top of the finished nail wraps and avoid touching water for two hours.
---
No products found.
What We Like
Glow in the dark
Latest Technology
Compatible
Non-Toxic
Environment Friendly
Techno Glow neon-pink powder is made of strontium aluminate doped with europium and dysprosium, making it the best waterproof daytime hot pink phosphorescent powder pigment available.
Quick charge from any light source with a good afterglow of up to 8 hours. Mix the powder with any medium, preferably clear, to create your own unique product.
Mix well well with mediums such as resin, epoxy, water-, acrylic- or solvent paint, nail polish, clay, rubber, cement, silicone, glaze, glue, varnish, polyurethane, fabric paint, marine paints and coatings, road paint, safety paint, etc.
What Our Testers Say
Love it! It is also easy to work with and leaves a smooth finish.
---
Common Questions About Glow In The Dark Nail Polish
Why is glow in the dark nail polish so trendy?
We might like to believe it's magic, but the actual term in phosphorescent pigments suspended in the top coat is what makes your nails glow in the dark.
This nail design gets all the attention, especially during the Halloween season; this radioactive mani is the perfect way to subtly celebrate the spookiest night of the year.
How does glow in the dark nail polish work?
Black Light Polishes would only light up when a Black Light or UV Light is shined on them. These nail polishes take in the UV light from a black light and convert it to visible light.
Does glow in the dark nail polish needs to be charged?
To get the best effect, "charge" your nails under a bright or black light if you have it. Your glowing nails will glow in the dark for a few hours.
That's just how to glow in dark (phosphorescent) materials work. After that, they will need a recharge.
Does all glow in the dark nail polish need light to glow?
There are options like the FairyGlo Night Glow Gel Nail Polish, which is a perfect go-to glow in the dark because it is a natural glow polish. It means that you would not need any light to enhance its beauty and shine.
How long does glow in the dark nail polish last?
The glow will last about 30 to 45 minutes in many nail polishes, but you can activate it again by holding it up to the light for just a few seconds.
Even a dim light, like a nightlight, should work, and it should only take a couple of seconds to activate the nail polish.
Does neon nail polish glow under black light?
This usually turns out best if done with neon-colored glow in the dark paint and white or pink nail polish, as black tends to turn purple or blue under a black light. With nails painted this way, even your clothes will glow under a black light!
How to prepare your nail before applying glow in the dark nail polish?
Gently push back the cuticle and remove any dead or excess skin if necessary.
Use your nail file to file the edge of your nails to your desired shape. Pay special attention to the cuticle area and sides of the nails; these areas are where lifting may occur due to poor preparation.
Buff your nails gently with your nail buffer.
Proceed to use a soft brush to clean your nails.
How to remove glow in the dark nail polish?
To remove glow in the dark nail polish, simply Use gel nail remover or soak a cotton pad with acetone, and place it on top of each nail.
Glow In The Dark Nail Polish Video Tutorial
Products Mentioned In This Article