Awesome nail art can turn plain-looking nails into a look-altering fashion statement, great for those who make their nails an essential part of their overall looks. If you can relate, nail charms exist in your vocabulary, or you may consider adding them to your next salon appointment.
Nail charms are simply a great way to go a little further by adding some dimension to your nails; just picture nails with crystals, spikes, or stones for an eye-grabbing overall ensemble. In other words, incorporating nail charms into your nail game can certainly level up a manicure to make a bold statement.
While working with nail charms may sound intimidating, as it involves a certain level of knowledge and tricky techniques, the results are totally worth it. The best nail charm set can make your nails appear sophisticated yet still chic and stylish.
When we talk about nail charms, there are countless options, from crystals to rhinestones to metallic spikes; you can embellish nails using just one of them or a combination; it is all up to you and your creative mind. Stick around as we tell you everything you need to know about nail charms.
Nail Charms Intro
Nail charms are colorful embellishments for your fingernails. These often resemble gemstones in jewelry but are smaller and cheaper.
A nail gem may be made of rhinestones, paste, plastic, or glass, with different designs to choose from. These stones have a flat back, making them easy to grab and place on the nail.
Nail gems and rhinestones come in various colors and styles; they can be clear like diamonds, colored like gemstones, candy-inspired charms, furs, and anything you can imagine.
There are tons of different types of nail charms, some crystal AB and some clear, making them ideal for different styles and designs perfect for either DIYers or Professionals.
How To Apply Nail Charms
Step 1 Apply base coat
Start by applying your base coat and two thin layers of the nail polish of your choice.
No products found.
We recommend Base Coat Nail Polish by Revlon; this nail base coat dries quickly, so you can create your nail look in record time.
With Revlon's nail polish base coat, you don't have to worry about chips, breaks, nail yellowing, and other nail nuisances.
Use the quick dry base coat with non-gel nail polish. Just apply to bare nails, let dry, and then paint on your color for a smooth, glossy finish.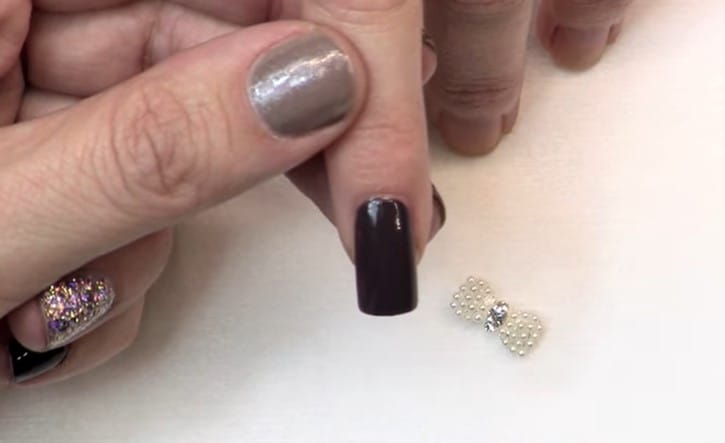 Step 2 Apply resin
Carefully apply a small glue dot or resin to your nail with an orangewood stick, toothpick, or other small, sharp object.
No products found.
You can try IBD Ibd 5 Second Brush-on Gel Resin. Ibd 5-second conditioner brush-on gel resin, its thick formula is perfect for wraps, silk repairs, and strengthening natural nails.
It has a no-drip formula that fills gaps and uneven nail beds. It also eliminates air pockets.
This non-yellowing Ibd Gel resin is a versatile product offering maximum strength and flexibility for all nail services.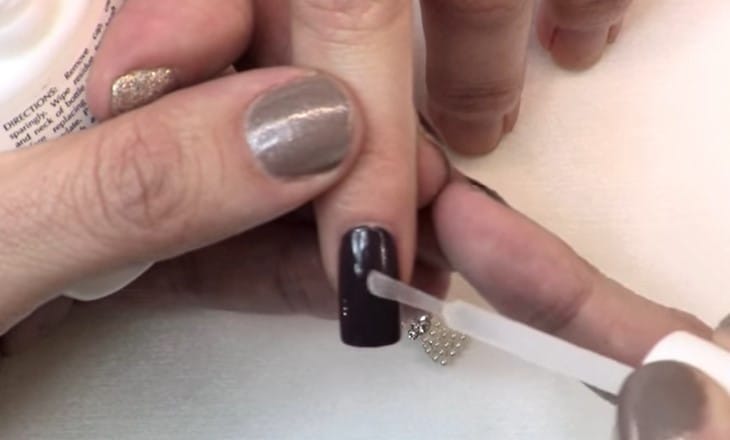 Step 3 Apply nail charms
Apply the nail charms on top of the glue dot and gently hold it in place with your orangewood stick or other tools, so it stays in place while you wait for the glue to dry.
Try to hold each rhinestone or charm in place for at least 20 to 30 seconds before letting go.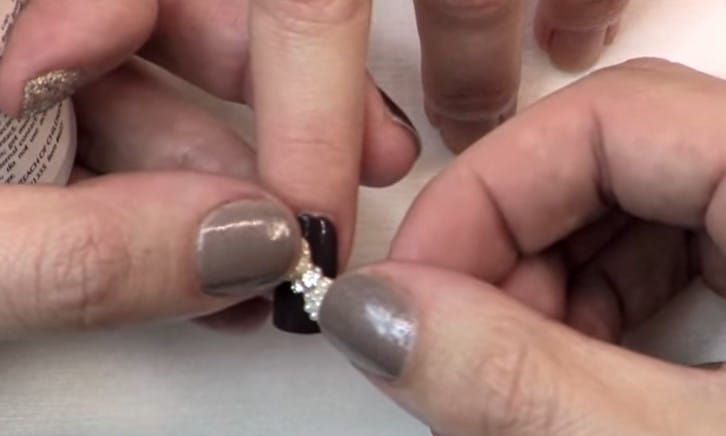 Step 4 Apply a clear coat
After you've applied all of your embellishments, apply a clear top coat to give the jewels extra staying power.
No products found.
We like Essie Gel Couture Platinum Grade Finish Top Coat for this step. This quick-drying clear top coat nail polish seals and helps protect to magnify shine for an ultra-glossy gel-like shine and a flawless finish that's chip resistant and fade resistant.
Use this glossy top coat nail polish with any Gel Couture long-wear nail color for a gorgeous, gel-like nail top coat finish; no base coat is needed.
The quick-drying top coat seals and helps protect, to magnify shine for an ultra-glossy flawless finish.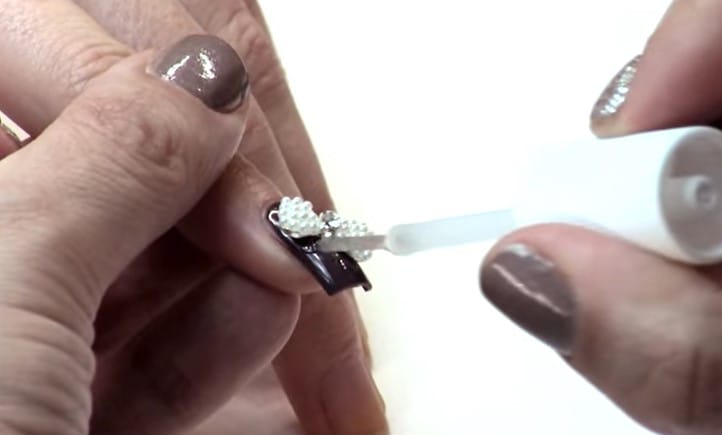 Best Nail Charms Set
No products found.
The nail art charms help to decorate your nails, making your nails more attractive and beautiful. Made of alloy material, high quality and durable.
This nail art charm set is an ideal gift for your friends or yourself to DIY at home.
The nail art charm features glitter 3D butterflies, creative and adorable. Each set in one box has 12 types of charms.
No products found.
This nail art kit can be used for various nail art designs, arts and crafts, or DIY projects. Easy to apply these 3D nail gold charms on natural or artificial nails; simply apply them onto a wet nail, then apply the top coat to seal it in.
The nail charms decoration set not only can be applied to natural or art nails but is also suitable for resin crafting, DIY craft, cell phone case, glasses, and card making.
Each small gold nail charm is made of copper to ensure they stay secure. Includes six boxes full of gold nail charms, one pair of tweezers, and one nail dotting pen.
No products found.
Made of high-quality glass and stainless materials, Gold caviar beads and white round pearl glitter gems can add sparkle and glamour to your nails. Make your nails more dazzling and charming, and will not fade easily.
It can be worn alone or with butterfly sequins; let simple jewelry show the beauty of not simple. The butterfly pearl nail supplies are good nail decoration gifts for female friends, wives, girlfriends, and mothers.
The 3D metal alloy Butterfly Nail Art Decorations are easy to apply on natural or artificial nails. You can also use them to decorate your home, cell phone case, glasses, made cards, body art, etc.
No products found.
The nail crystal is made of high-quality glass and is very hard and not easily broken. The AB coating is bonded firmly to the outer surface of each crystal bead with durable sparkling and brightness, making your nails more dazzling and charming.
They are self-adhesive and very convenient for beginners; each nail stone has a base for applying to stick on the nails easily, the curved design perfectly fits the nails, and the outer surface features precise cutting faces.
Nailbrushes come with 15 different nail design pens. Including nail extension gel brush, builder gel brush, nail carved pen, and nail art liner brush. Great for professional salons and home DIY nail art, suitable for nails specialist and nail learners.
No products found.
Mix 21 styles, such as candy, chocolate, donuts, cakes, cookies, strawberries, fruits, desserts, etc. DIY candy charms will develop your creativity and imagination; it also brings you lots of fun and helps you relieve your stress.
These Halloween nail charms are suitable for 3D nail art and are easy to apply to natural and artificial nails.
Halloween nail charms rhinestone decoration, including various shapes of skulls, spiders, skeleton hands, etc. perfect mix colors and combinations of shape gives you a variety of nail designs, make your nails more mysterious and charming.
Nail Charms Additional Tips
There are a ton of mediums for adhering nail charms, but the ideal ones are gel polish, hard gel, or a special adhesive used specifically for crystals.
Your choice of an adhesive medium will largely depend on the size of the embellishment, the design layout, and whether you use a natural nail or enhancement as a foundation.
When placing your nail charms, think of yourself as a jeweler. Seal the pieces in with the idea that you are holding the crystal, pearl, or stud in a setting, which usually comes in the form of clawed edges or a complete top covering.
Be sure to seal the edges of the nail embellishment instead of covering the top, especially if you apply anything with facets. Coating the facets with a topcoat or gel will cause them to become dull and lifeless.
Common Question About Nail Charms
What are nail charms made of?
Nail charms are made from materials like gold, silver, metal, alloy, and resin.
How long do nail charms last?
When you go to the salon to have your nail tech do your nails, crystal nail art should last at least two weeks.
Can you use nail glue on nail charms?
It has a brush, which makes it super easy to apply. Use a paint top coat and let dry for a few minutes. Apply nail glue to charm and nail, place with tweezers, hold for a few seconds, and done.
Can you reuse nail charms?
For a reusable sparkle, use authentic Swarovski crystals as nail charms, which can be removed and reapplied because the acetone will not damage or alter them.
Can you put gems on natural nails?
You can totally attach rhinestones to natural or acrylic nails but start with a coat of your favorite gel nail polish as a base. Make sure that your nails are completely clean and dry before you paint them. This helps the polish stick to your nails.
How to choose nail charms?
When making your selection, it is quite helpful to ask yourself: Do I want to reuse the embellishments? Do I want a crystal or metallic shine? Am I working on natural nails or enhancements?
The answers to these questions will dictate which embellishments are best for your nails.
Which nail charms are disposable?
If you are looking for a disposable option, apply rhinestones or gems, as these will easily dissolve in acetone.
What are the best nail charms for an edgy, metal look?
If you want to show your wild side, choose from the endless options of studs and spikes to create an unforgettable design.
Are enhanced nails better for holding nail charms?
Enhanced nails can generally handle larger embellishments than natural nails, and discussing enhancement options and expectations, it's critical to have the desired results.
For example, you most definitely want a customized nail enhancement set to hold a pointed-back, cut crystal, which is an embellishment that wouldn't be ideal for a natural nail.
Nail Charms Video Tutorial
Products Mentioned In This Article