Do you dream about salon-quality gel nails without leaving your house or your wallet empty? Then it sounds like you may need the best gel wraps for nails you can find. If you haven't tried them yet, you are really missing out; gel wraps are so worth it that you'll be happily surprised.
Every gal that has tried gel wraps is instantly hooked, and there's a good reason. Because gel wraps are made with real gel, these are pretty versatile and come in a huge range of colors and finishes to offer you the very best possible results. Now you can have instantly perfect nails that last for days.
Gel wraps for nails can also be used on both natural and artificial nails, making them a great alternative to countless salon visits. As you can tell, gel wraps are great for busy people who want to save time and money on getting their nails done; now, you can forget about brushes and polishes and even avoid room for mistakes.
In a sea of choices, finding the right gel wraps can seem a bit daunting; however, keep in mind that the results are totally worth it. You are in the right place if this is your first rodeo with gel wraps for nails. Stick around and choose your favorite gel wraps; learn how to use them, tips, and more below.
How To Apply Gel Wraps
Step 1: Prep your nails
Prepping your nails is the most important thing you can do to ensure a long-lasting manicure. The first step to applying gel nail wraps is ensuring you have clean, dry nails.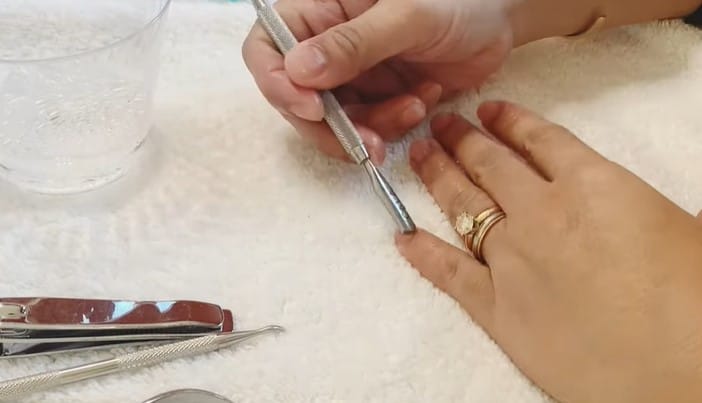 Step 2: Choose the size and apply
Choose the right size nail wrap that fits each of your nails.
Then peel off the protective and apply each nail wrap to your nails, starting at your cuticle and pressing down firmly as you smooth it to the tip of your nail to squeeze out any air bubbles.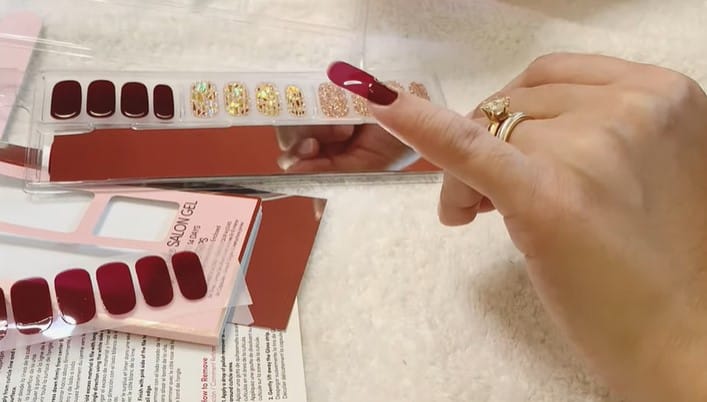 Step 3: Trim excess and seal
Trim off any excess wrap with scissors or a nail file and seal with a gel polish top coat.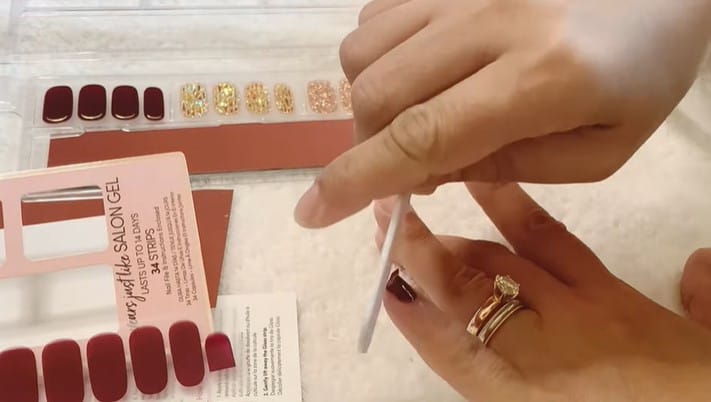 Step 4: Finish off by curing
Once all nails have been applied and filed, cure them under a UV lamp for 10 minutes, and that's it.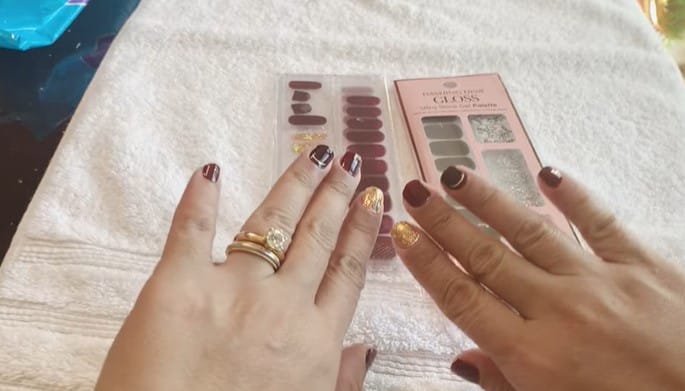 ---
Best Gel Wraps For Nails
No products found.
With an easy and fast DIY application and removal method, our semi-cured gel nail wraps are suitable for both professional manicurists and beginners. Convenient nail art designed for your beauty!
Made of 100% real gel nail polish with a topcoat that is 60% semi-cured making, the gel nails press on flexible and glossy. These semi-cured gel nails are comfortable and lightweight to wear and deliver salon-quality volume and durability.
It can last for up to 2 weeks with UV nail lamp curing. Free from toxic and harmful ingredients, make it safe and odorless.
What Our Testers Say
I ordered these because I didn't have time to squeeze in a mani before going on vacation. Super cute, easy to apply, and lasted two weeks. Got a lot of compliments – recommended to all of my friends.
---
No products found.
What We Like
UV Free
Long-lasting
Quick Application
The glossy gel nails you desire, minus the polish. These chip-resistant, easy-to-apply gel nail strips require zero dry time and last up to 14 days.
Cranberry red gel nail strips featuring red and silver ombré glitter, 3D rose gold studs, and leafy accents with a glossy, high-shine finish. The base of this palette is a signature GLOSS Color Spiced Wine.
Nail your look in minutes with the next generation in the gel. Simply apply gel strips to clean, prepped nails, then file off the excess! Quick application, non-wrinkling formula, non UV dry time.
Tips
These nail strips are the best I've used! Color Street strips always crack on me over time or come out with sub-par adhesion right out of the package, so I wanted to find something better.
These Dashing Divas are great! Excellent adhesion, long wear, don't chip or crack, and they look nicer and stay shiny until I'm ready to take them off.
---
No products found.
Instantly give your nails a super cute manicure. Doesn't require dry time for a mess-free application. Peel, apply, remove the excess, and get ready to show off a salon-worthy manicure.
This set includes 35 long-wear gel nail strips. All you need to do is wash your hands with soap and water. Clean with alcohol or nail polish remover and push-back cuticles.
Start applying at the cuticle line and cover the entire nail surface. Firmly press down from the center, then side to side.
Tips
Fold excess material down, then file in a single direction in long strokes from top to bottom.
---
No products found.
What We Like
Semi Cured
Variety
Waterproof
Long-lasting
What We Don't Like
Resin Material
Single-Use
Pricey
Aillsa gel nail strips are made of natural resin without chemical formulated. Compared with ordinary nail art stickers, they are not bubble or tear, naturally fit the nail surface, and feel as comfortable as natural nails.
Because it is made of real liquid gel and (or finalized) by 60%, AILLSA nail strips can last more than 14 days with UV led nail lamp. But compared with traditional nail polish, it does not dirty or hurt hands, is waterproof, and is not easy to peel off.
Just need 3 minutes, you can gain a perfect nail experience and get professional nails at home like a beauty salon.
Tips
You can use gel nail wraps for various occasions or holidays, like shopping, friends gatherings, weddings, birthday parties, dating, Valentine's Day, Halloween, Christmas, etc.
---
No products found.
What We Like
Semi Cured
Easy Application
Color Variety
Various colors and pattern designs from MOMSON semi-cured gel nail polish wraps are enough to satisfy nail fashion demand.
These gel wrap stickers are made from real gel nail polish ingredients and are safe and durable, nontoxic materials, and won't damage the nail. Especially after curing by UV light for 60 seconds, keep gel nail harden on nails and can last up to 2 weeks.
Removal is also easy; peel them off directly or use the wood stick. If still glue remains, use gel nail polish remover.
Tips
Ensure remaining gel nail stickers are stored in a black bag, and use a seal sticker to seal the opening to avoid drying out.
---
No products found.
What We Like
High Quality
Easy To Apply
Perfect Fit
Vegan
Cured 60% in advance, our gel nails are made with real liquid gel and fit all types of nail sizes and shapes. Whether you have round or square-shaped nails, our polish will look fab.
With its waterproof top gel layer, our gel nail stickers can last up to 2 weeks once completely cured under a UV lamp. You won't have to worry about them chipping off.
Don't have time to go to the salon? These semi-cured gel nail strips are easy to use, file, cure, and remove. Even beginners can get fabulous-looking nails in minutes.
Tips
When applying, firmly press the edges for better and prolonged adhesion.
---
Common Questions About Gel Wraps
What are gel nail wraps?
Gel nail wraps are basically like stickers for your nails, but on steroids, they're made of actual gel that you apply to your nails and then cure with a UV light. The result is something similar to gel nail polish but easier to apply and lasts even longer than gel.
How long do gel wraps last?
Just like gel manicures, gel wraps can last for about two weeks. However, this lifespan can shorten if you frequently submerge your silk nail wraps in water.
This two-week duration can even become shorter if you work with your hands under demanding circumstances.
Do nail wraps damage your nails?
The wraps themselves aren't damaging your nails; however, not removing them properly may cause damage.
Are nail wraps better than polish?
Nail wraps create the same professional, polished look that acrylic nails are known for but are a safer, more efficient choice.
The stickers are softer and more bendable than acrylic nails, but they're also healthier for the nail overall, especially during removal.
Can you put nail wraps over gel?
You can! As long as the wraps have been sealed with a top coat, gel coat, or transparent acrylic, and the edges are capped, you may absolutely do so.
How do you take off gel wraps for nails?
The first step is to file off the Top Coat. This is very important as it allows the Nail Gel Remover to penetrate into the Gel and loosen it from the nail plate. Take special care if the gel is thicker in any area and around the cuticles.
Wipe the nail clean to remove any excess dust. Apply the Scorch Nail Gel Remover to each nail. Ensure that the nail is well covered with the Nail Gel Remover jelly. Avoid contact between the skin and the Nail Gel Remover as this might result in a slight burning sensation.
Wait 5 minutes. During this time, the gel will show signs of lifting or bubbling. After 5 minutes, remove the excess gel with an orange stick. Some gel may be hard to remove and may remain on the nail plate. This may require extra filing and then reapplying the Scorch Nail Gel Remover.
Gel Wraps Video Tutorial
Products Mentioned In This Article