Can't get enough of your French manicure? We hear you! The good news is that you don't have to give up on it. A traditional French manicure, defined by the white polish across the nail's tip, is a look that is timeless and chic. However, it's about time you give it a twist and go for something extra, like a gold French manicure.
French tips can make your nails appear longer and are a timeless and chic option for women of all ages. French manicure, which is typically white tips and a glossy semi-transparent finish on top, doesn't necessarily have to be white and boring. Gold nail tips are the easiest way to add some sparkle to your life.
If you want to spice up your ordinary french manicure with something a little bit more unique and bright, you can do so with a bit of gold color. Gold is a luxurious hue and is also perfect for all seasons and events. Even better, it can also be worn in various settings, from casual to a busy day at the office.
This sophisticated style, however, has a modern twist. So if you want to do a French manicure with gold in it, you are in the right place. Take a look at the guide below, and as we share with you gold French manicure ideas, tips, and how you can create the nail design for yourself at home following a few simple steps.
Gold French Manicure Ideas/ Inspo
Luxury nails: Anything that shines and glitters is good with us. Pink nails with diamonds are a strong look, and with a golden sparkle French tip, you get a rich luxury design.
Swirl nails: How about some black and white swirls and squiggles on top of your gold french tips for an elegant yet edgy look?
Unicorn nails: Picture glitter gold french tips with v-French tips for a fun look.
Concrete nails: Concrete nails seem to look good with gold tips; you can add some black spots to make it look like a marble stone.
Christmas nails: To get in the spirit, how about some burgundy nail polish with golden tips to keep it bold and fun over the season?
How To Gold French Manicure Steps
Step 1 Shape your nails
Although a French manicure can be suitable for every type of nail plate and shape/length, the middle almond or short square shape looks best for French nail tips.
No products found.
We recommend Tweezerman Neon Hot Nail Filemates. These are professional quality nail files in hot neon hues. Dual-sided professional nail file with 100/180 medium and fine grit surfaces for filing.
Always file nails in one direction instead of back and forth to prevent nails from splitting. Use the coarser side to shape the nail and the finer side to smooth the nail edges.
Perfect your nail shape with these professional quality nail files. Ideal for both natural and acrylic nails.
Step 2 Buff nail plate
One little mani-secret is that gently buffed nails help polish to stay better.
No products found.
The Nail Buffer by Revlon, Shape 'N' Buff Nail File & Buffer, is perfect for the job. This all-in-one nail buffer block and file create perfectly shaped, smooth, shiny nails.
A manicure essential, this multitasking tool features two surfaces, one to shape and smooth nails and another to buff them to a glossy finish.
Use the filing sides to shape and smooth nails as desired; always file in one direction to prevent splitting. Then turn to the buffing surfaces to give nails a gorgeous sheen.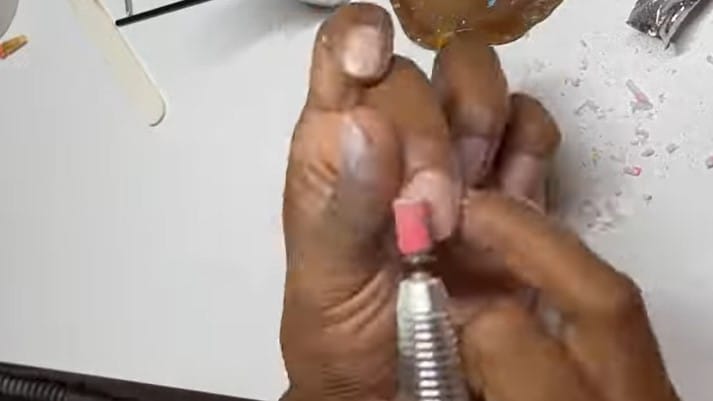 Step 3 Hydrate cuticles
Make sure to soak your cuticles in oil before pushing them back. Then, exfoliate your hands with a body scrub and apply hand cream.
No products found.
We like OPI Nail and Cuticle Oil, ProSpa Nail and Hand Manicure Essentials. It protects and nourishes the skin while helping to stop the signs of aging before they start.
The ultra-nourishing formula helps protect, replenish and strengthen cuticles. Most women in a survey said cuticles felt softer, smoother, and healthier with one week of daily use.
All you have to do is gently massage the nail cuticle twice daily. It is truly, a manicure essential for the skin around your nails.
Step 4 Apply base
Start with one thin layer of nail base coat to get maximum adhesion. This one also prevents nails from getting stained or yellow. You can opt for a clear or light pink base coat.
No products found.
We recommend Sally Hansen – Good. Kind. Pure Vegan Nail Polish, Top coat. This natural, plant-based, and 100% vegan top coat nail polish protects and cares for your nails with the clean beauty of the earth.
It pairs perfectly with any of the 30 nail polish varieties available, helping colors adhere to your nails.
It's nature in a bottle, down to the brush, with 100% natural, plant-based bristles that make application a breeze.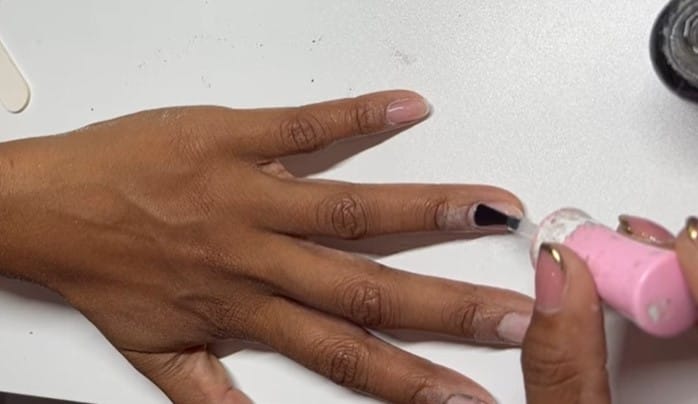 Step 5 Paint the tip of the nail
Then apply a thin layer of gold lacquer at the tips. If you find it hard to get the line perfect, you can purchase strips that are designed for this exact thing. Alternatively, you can also look for nail stickers.
No products found.
We love Sally Hansen Insta Dri Matte Metallics, Gold Rush. This unique nail lacquer enhances the color of your natural nails and gives your natural nails a shiny, healthy glow.
Your favorite quick-dry Sally Hansen nail color is now available in a Matte Metallic finish. Formulated with a base and top coat for full coverage in just 1 stroke.
Sally Hansen's instant-dry dries in 60 seconds, delivering full coverage color and shine in just one coat. This polish is formulated with base, color, and top coats for extended wear and a stunning, streak-free shine.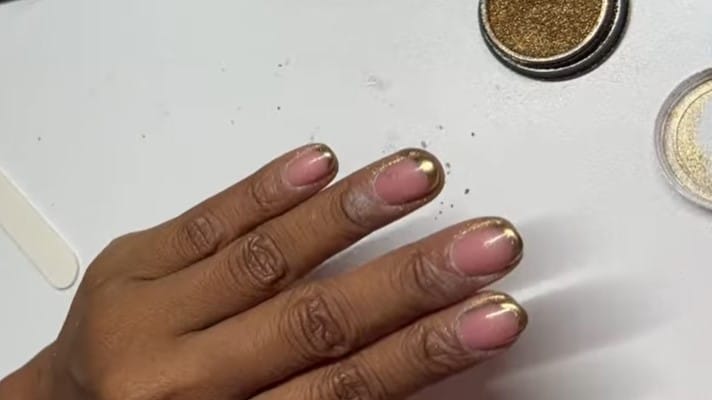 Step 6 Finish with top coat
After cleaning up any stray polish with a Q-tip soaked in nail polish remover, seal and set your DIY French manicure, and finally finish with a thin layer of a shiny topcoat.
No products found.
We recommend Essie Gel Couture Platinum Grade Finish Top Coat. Use this glossy top coat nail polish with any Gel Couture long-wear nail color for a gorgeous, gel-like nail top coat finish.
This quick-drying clear top coat nail polish seals and helps protect to magnify shine for an ultra-glossy gel-like shine and a flawless finish that's chip resistant and fade resistant.
It features the patented swirl-stem and curve-hugging brush for an easy 2-step application.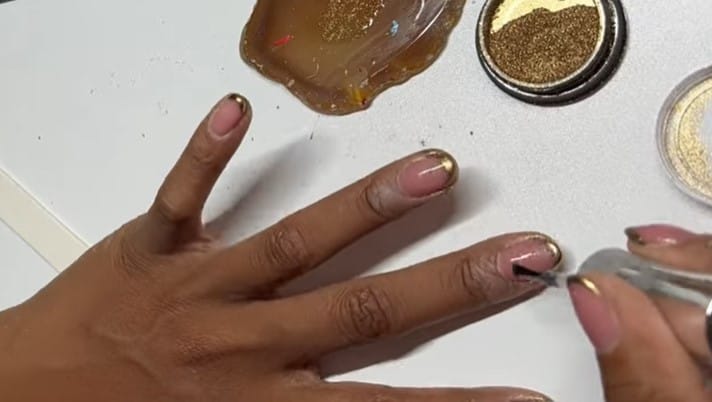 Gold French Manicure Additional Tips
If you don't have a steady hand and/or still need to brush up on your DIY manicure skills, nail tape can help. After applying the base coat, wait until dry, and then align the nail strip to expose the French tip. Press down firmly and apply the white polish to the tip. Let it dry before removing and proceeding with the manicure.
As with any manicure, you'll get the most out of a French manicure if you use a strong base coat and a top coat, for starters.
Avoid anything that may cause chipping (biting nails, hot water, chemicals, etc.), and don't forget to seal your manicure or paint around the nail tip to protect against damage.
Common Questions About Gold French Manicure
What are French tips?
The French tip refers to the line of polish that covers the tips of your nail. It is usually white lacquer and can be created in various shapes.
It is a look that is fuss-free and classic, appealing to women of all ages, and perfect for a variety of different settings, from casual to corporate.
How to do French tips?
To create the look, you will usually start with a simple manicure, applying a base coat that is clear or light pink. You then want to add a white polish to each tip of the nail.
This design does require some precision to complete, and it can be hard to get the line perfect. If you need a little more practice, then make use of guide strips.
Are French manicures outdated in 2022?
The good news is that, for 2022, French manicures are here to stay, but as you'd expect, this classic comes with a twist.
French is the look we're seeing on all shapes of nails today, whether it's squared, almond, or coffin, and not necessarily in the traditional white tips.
What is the best color for a French manicure?
Clear nail polish can be used as a topcoat for a French manicure. A sheer pink color is considered to be the primary French manicure nail polish. Finding a color that creates limited streaking is ideal when choosing this polish.
Can you get a French manicure with dip?
You bet you can! The French dip features a curved line that follows the natural whites of your nail, while the half dip is a sharp, straight line done horizontally across the nail bed.
Is it hard to do a gold french manicure?
With the right tools, a gold French manicure isn't hard at all.
If you are already familiar with a regular French manicure, then all you need to do is to replace the white polish you apply to each tip of the nail with a gold color nail polish of your choice.
What is a reverse French manicure?
A reverse French manicure is a variation of the traditional French manicure that uses a dark color for most of the nails and a lighter shade at the nail bed instead of the fingernail tip.
A layer of clear nail polish will usually be applied before a reverse French manicure.
What is the best shape for French nails?
Although French manicures can be suitable for every type of nail plate and shape/length, experts suggest that the middle almond or short square shape looks best for French nail tips.
How long will a French manicure last?
A French manicure is done by servicing a basic manicure and applying a sheer pink or beige tone and a white polish tip on each nail. A French manicure can last up to two to three weeks if done in gel or up to seven days if done in regular polish.
What is a double French manicure?
This trend sees not one but two french manicure lines carefully painted along the tip of your nails. It combines multiple designs, like the slanted variation, the deep french, and the "neon french twist," all into one Instagrammable manicure.
Does a French manicure look good on short nails?
The French manicure gradient works well on shorter nails as there isn't a sharp white edge that shows where the nail bed ends, and the nail tip begins. It illuminates that the nail tips are longer as the white tip gradient fades.
Can gold French manicure damage the nail?
It should not affect the nail's health if done and removed by a professional technician.
How do you remove a golf French manicure?
A gold French manicure can be removed with acetone if in gel or with nail polish remover if done in regular polish.
Gold French Manicure Video Tutorial
Products Mentioned In This Article