In a day and age where you need a face mask to go out on the streets, sanitizing has taken on a whole new meaning. In the past, you may not have pondered too much about sterilizing methods of nail tools; however, now that most of us have taken these and other tasks on our own, you probably wonder about how to sterilize nail tools.
If you, like us, have come to the point of asking about this predicament, then welcome you and tell you that you are not alone and that you are in the right place. If you have been doing your own nails or wish to do so, you need to be mindful of what you put near your nails if you want to avoid an infection.
Making sure you properly disinfect your nail instruments is a critical part of a hygienic routine that not only should be dutifully followed at professional salons but also at home or whenever you are working on your nails. It is safe to say knowing how to sterilize nail tools is a skill that can save you from major headaches down the line.
Always remember that if you are doing your own manicure, one of the most important things is to start with clean and sterilized tools; otherwise, you are setting yourself up for infections. If you aren't sure if you are cleaning your nail tools the right way, stick around as we tell you everything you need to know about how to sterilize nail tools.
Sanitizing Vs. Disinfecting Vs. Sterilizing Nail Tools
Sanitizing is removing any debris and washing with soap and water
Disinfecting kills 99% of all bacteria, fungi, and virus
Sterilizing kills all microorganisms present, including the spores
Nail tools that need proper disinfection:
This usually includes hard and non-absorbent nail tools such as metal nail clippers
metal or glass nail files, electric nail file bits, plastic or metal cuticle pushers or nail art sticks, manicure bowls, and nail cleaning brushes.
How To Sterilize Nail Tools Steps
Step 1 Sanitize all reusable tools by washing them
Start by getting a clean and dry scrubbing brush. Use it to dust away any dust and debris into the bin. Then, take your nail tools to the sink to sanitize them. Fill your sink up with some hot soapy water and give them a good wash.
No products found.
We recommend using KADS 3 Colors Nail Art Dust Clean Brush. The nail brush handle fits right between your fingers in opposite hands for a good grip, so it's maneuverable between each finger so you can get the sides and top.
They not only work as nail scrub brushes or as nail art brushes; they work great on the feet and hands. From scrubbing fruits and veggies to countertops and many other things.
These cute fingernail brushes can be used in the bathroom, garden, and sink, perfect to remove the dirt from your hands, fingernails, and toes. Great for men, women, and kids.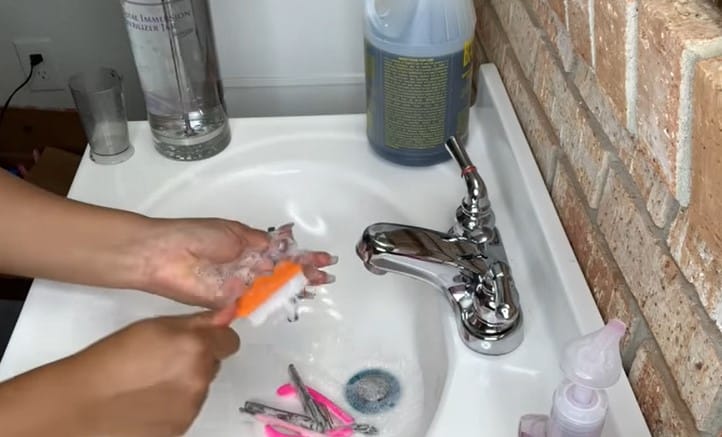 Step 2 Dry them with a clean towel
When done, rinse them off and dry them with a clean towel or fresh paper towel.
No products found.
Go for Quick-Size Paper Towels. Pack contains 12 Family Rolls of Bounty white Quick Size paper towels; 12 Family Rolls equals 30 Regular Rolls.
The pack contains 60 more sheets per pack which mean six extra days' worth of paper vs. 12 of Bounty Select-A-Size Double Plus Rolls.
Bounty's shortest sheets are now even more absorbent for a versatile clean (versus the previous product). It is 2X more absorbent vs. leading ordinary brands.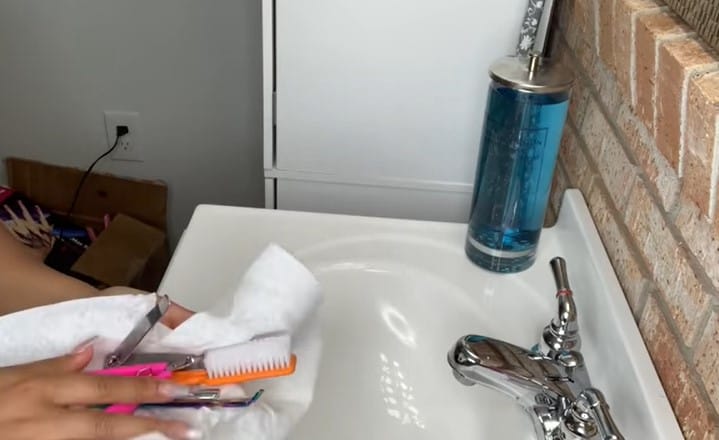 Step 3 Submerge them in disinfectant for at least 10 minutes
Once sanitized and completely dry, you can now disinfect your nail tools. To do this, you completely immerse your sanitized tools into a disinfectant solution that should be at least 70% isopropyl or ethyl alcohol.
Always follow the instructions of the particular brand of disinfectant that you use. Some can cause rust and corrosion to your nail implements if left in for too long.
No products found.
Try using MG Chemicals 8241 70/30 Isopropyl Alcohol. Safely removes dust, dirt, and greases from electronic devices; it is great for cleaning off residues from in and around electronic devices.
The liquid is fully miscible with water and a large variety of organic solvents, making it good at dissolving dirt, dust, greases, and light organic contaminants. It is quick drying relative to water and leaves no residue.
As it dries, it gives off a light alcohol odor, which is not bothersome and serves as a cue to limit over-exposure due to poor ventilation. It is safe for paints, metals, and plastics.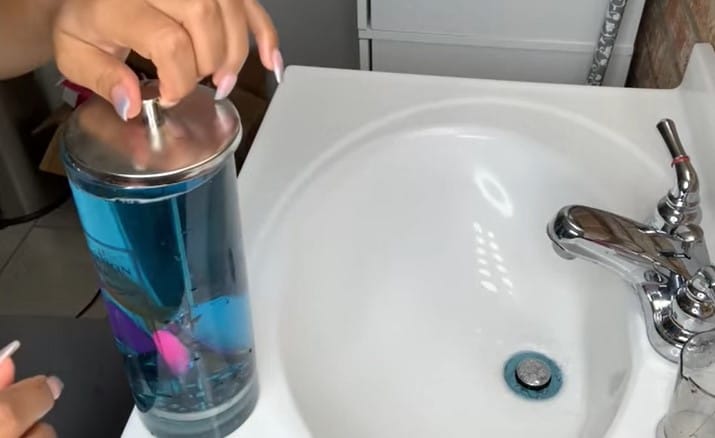 Step 4 Either remove them or leave them in a disinfectant jar
After sterilization, leave your nail tools in the sterilizer until you are ready to use them. A manicure table jar is ideal for keeping clean tools on hand.
No products found.
The Barbicide Manicure Table Jar offers convenient nail implements, drill bits, and accessories disinfection. It is made of high-quality, durable glass with stainless steel lid and holds four fluid ounces.
The barbershop's iconic symbol for safety and cleanliness has always been the faceted glass jar with a silver lid.
Solid yet compact to fit right at the work table. The cutting implements rest immersed in disinfecting solution. Fully immerse drill bits, tweezers, and more.
Step 5 Store your nail tools
If removed, place them in a sterilizer or clean drawer. Be careful how you store your clean and disinfected tools overnight. It's better to simply line a clean drawer with some paper towels and neatly place your tools inside.
No products found.
We love Gusnilo Nail Art Tools. Use the Gusnilo storage box to let your family and friends know how much you care about their comfort and protection.
When the lid is opened, the drain basket tray of the box can be lifted automatically. Put nail tools or haircut tools into the tray, pour the liquid, and start working.
It is suitable for personal home use, nail salons, nail schools/universities, artist nails, etc.
How to use Gusnilo Nail Art Tools:
Open the lid, and the sterilizer tray will automatically lift.
Put the nail tool on the sterilizer tray.
Pour the liquid into the sterilizer box, and then close the lid.
The nail tools will be soaked and cleaned.
After the nail tools are cleaned, you can open the lid, and the tray will lift automatically. The holes in the tray will automatically drain the liquid.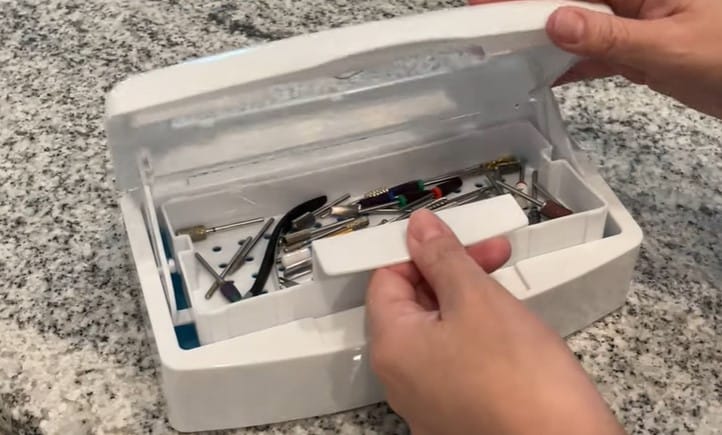 How To Sterilize Nail Tools Additional Tips
Do not use alcohol on painted, varnished, or lacquered nail tools. Alcohol can break down the coating and damage your nail tools. It's best to use stainless steel manicure tools.
Always use alcohol in a ventilated area. Alcohol is a volatile liquid which means it evaporates very quickly. So do keep windows open while cleaning your nail tools.
When learning how to sterilize nail tools, never dilute the 70% isopropyl alcohol for disinfecting nail tools. The best % for killing bacteria on nail tools is 70%.
Common Question About How To Sterilize Nail Tools
How do you sterilize metal nail tools?
Use pressure steaming to sterilize metal tools or rubber or plastic equipment. Some clinics and hospitals have a machine for sterilizing called an autoclave. Autoclaves sterilize instruments using pressure and steam.
How do salons sterilize tools?
Various commercial disinfectant solutions are utilized. Use them to clean and sterilize nail tools and other equipment.
Disinfectant wipes or sterilization pouches also come in handy, as they are easy to apply and use. Dry sanitizers or sterilizers are great places to store your clean tools.
How do you sanitize and disinfect a nail cutter?
Put nail clippers into a small bowl of boiling hot water, scrub with a toothbrush, wipe with rubbing alcohol, and dry with a clean towel.
Bleach is a very good disinfectant: Soak nail clippers and tools in undiluted bleach and wipe them dry with a paper towel.
Does rubbing alcohol disinfect nail clippers?
Cover nail clippers with 70% Rubbing Alcohol in a glass bowl. Let soak for 30 minutes. Rubbing Alcohol kills bacteria by destroying the cell wall as it dries.
It's important to use a 70% concentration because it contains the proper amount of water to alcohol.
Does boiling water disinfect metal?
Cleaning alone is not enough for sterilization. In addition to a thorough cleaning, you'll need to apply heat from boiling water.
The heat kills the germs without damaging the metal in the process, leaving the metal in a sterile condition and ready for use.
Is it hard to learn how to sterilize nail tools?
The best sterilizer for cleaning nail tools is Isopropyl alcohol which is 70%. Using 70% Isopropyl alcohol is better for disinfecting than a higher % because it has more water content, helping the disinfection process.
How do you clean a nail buffer?
You still need to disinfect these implements if they are not single-use. You need to remove all the dust, wash them and apply a disinfectant for the required amount of time.
If you can't completely submerge your nail buffer in disinfectant, you can spray it directly onto the surface instead.
How to store nail tools?
Now that you know how to sterilize nail tools is time to learn about the proper storage of your nail tools.
Disinfected and dried implements/tools must be stored in a sanitary manner. A lined drawer is usually adequate, provided it is clean, contains only clean items, and is properly labeled.
Store soiled or used items in a properly labeled, covered container separate from clean items.
How To Sterilize Nail Tools Video Tutorial
Products Mentioned In This Article